Fun Fact: There are more than 30 bridges that cross over the Thames river in London. But two bridges, the London and the Tower bridges are the ones that are known by everyone. Today, we are going to go through these two famous bridges and understand what makes them so special.
Let's start with the namesake London Bridge. First built during the Roman era in the first century, the Bridge used to connect Londinium and Southwark at that time. The medieval ages saw the bridge being destroyed and rebuilt many times.
The Bridge built by King Henry II in the early 13th century had houses, shops and latrines over the bridge. The London Bridge has endured many a natural disasters including the Great London Fire of 1666. By 1722, Lane driving was instituted leading to the British laws of driving on the left. The Modern London Bridge was constructed from 1967-1972. Made with pre-stressed concrete, the bridge has huge arches under which river traffic can pass.
A common depiction from the movies, the Tower Bridge is best seen from the Thames river cruise. One of the bridges standing from the Victorian Era, this bridge was constructed in the late 19th century. One of the most interesting parts of this bridge is that it is a bascule bridge and a suspension bridge.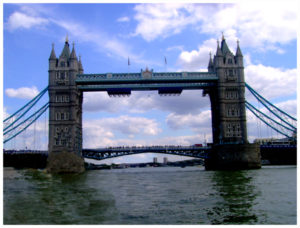 The Bascule bridge is the central part of the bridge flanked by two towers which can be raised for river traffic to pass through. Although the bridge is raised enough for the ships to pass through, but the Bascules are raised to their full height when a monarch is on the vessel.
Although the London Bridge gets it's name from the city, but it's the Tower Bridge which draws quite a large audience thanks to it's impressive architecture. The Tower Bridge named after the London Tower situated nearby. The medieval towers on the bridges give them an even older look thus making people think that this is the older London Tower. The towers also host the Bascule pivots and operating machinery. A popular urban legend states that Robert P McCulloch mistakenly bought the old London Bridge thinking it to be the Tower Bridge. The Tower Bridge Experience is a beautiful way to experience the bridge along with it's open air walkway. Tell us which is your favourite of the two?