RGB Bar and Grill, is the all day dining restaurant at Park Inn By Radisson, New Delhi. It delights the patrons with its gastronomical offerings, which is a unique blend of local and international cuisine. The all-day dining restaurant serves an international buffet breakfast, with a la carte options available for lunch and dinner. RGB Bar and Grill exceeds guest's expectation and rightly anticipates diners needs by offering outstanding F&B and service through consistency. The restaurant is dynamic and stylish with brightly coloured interiors and furnishings, designed to bring a smile to guests with fine modern gastronomy. The menu encompasses a choice of innovative dishes at its live cooking stations, as well as exciting à la carte options including North Indian, South Indian, global and local specialties. With delectable buffets, there is always something for everyone.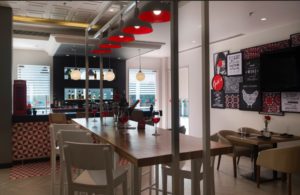 Food Talks
We have a go at their Classic Chicken Ceaser Salad. You won't feel that Caesar salad was a waste of money. Full of healthy ingredients accompanied by creamy sauces will make you feel fresh yet fulfilled. Next on my plate was Chicken Shu Mai. The little morsels of ground meat wrapped with wonton skin, served as dainty steamed dumplings comes in a small bamboo steamer. and they are so good that every bite is always bursting with the freshness and juicy goodness of the filling. Spinach and corn dimsum is a dish that popeye fans will love. The delightful spinach brings out the deliciousness of the steamed corn and garlic stuffing making it a heaven. These little bites are of low calories and hence makes a dieter's day.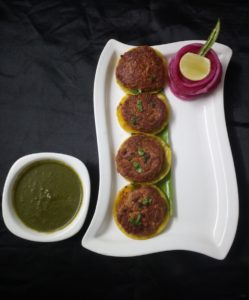 Following it is the effervescent Galouti Kebab which was an explosion of flavors, meat and spices combining well and melting in your mouth. Dahi ke Kebab was well spiced and had a tanginess to it. Next came in Cottage Cheese Steaks. And of course, they did not miss on adding some beautiful elements here as well. There are a few layers of cottage cheese with pine nuts in between the layers and this is served on a bed of rice with their in-house sauce on the side. This dish is absolutely worth digging into. Last but not the least was the Lamb Chops. Again, it's the premium quality of the meat that impresses you. The sauce seems a little less on this one as it suffices for only the meat not the accompaniments. Our meal ended on a sweet note with their signature dessert "Molten Chocolate" which has an explosion of flavours and leave a long lasting impression on your taste buds. RGB Bar and Grill takes care of your gastronomical needs under one roof along with some great service to boost.