SHORT READ (IF YOU ARE READING ON THE GO)
Grappa is a haven for people who are looking to experiment with innovative cocktails. A modern gastro bar with an authentic mix of gins and cocktails. Located at the lobby level of Shangri-La's – Eros Hotel. The place is smoothly mixed into its surroundings with easy access to Sorrento and Shang Palace, it also provides an attractive setting for sundowners. Must tries include the Indian Sour, Pisco Sour, bruschetta and La Fayette. Price for 2: INR 4000 with alcohol.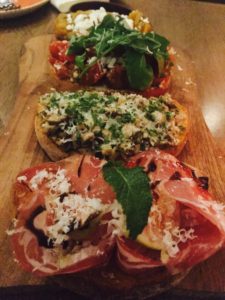 LONG READ (FOR READING AT LEISURE)
After launching an all day dinning restaurant, Tamra which is an oasis in the frenzy of the urban life of New Delhi and Swanky tea restaurant Mister Chai. Now, Shangri- La's Eros Hotel, introduces their all-new bar – Grappa – a stirring destination that is all set to boost the capital's nightlife Scenario. The bar offers unique Italian aperitifs as well as handcrafted cocktails.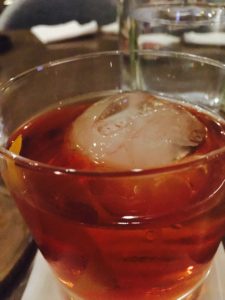 International mixologist Mario Gonzalez Cabildo teams up with our home grown talent, Gaurav Dhyani, to churn out a wide array of delectable and soothing cocktails to their patrons at Grappa. The hotel's signature bar is devoted to serving best premium beverages. The beverage menu includes some barrel-aged cocktails, such as the Manhattan and Negroni, which were recommended to me by Gaurav. Main highlight for us was undoubtedly the Gin and Tonic. Mr. Suveer Sodhi, Director F&B of Shangri- La's- Eros Hotel, tells us that here patrons have the liverty to select their favourite gin from the list and a choice a tonic along with a garnish and then sit back to enjoy the wonderful amalgamation.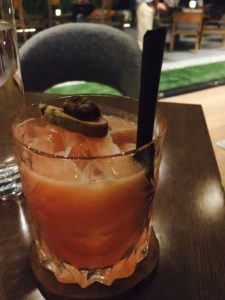 Next, we tried out Negroni. A classic Italian cocktail made of Gin, Campari and vermouth is one of the most popular cocktails around the world. Negroni is an acquired taste. You either love the bittersweet bliss of Campari or despise it if the number of taste buds on your tongue are off the charts. Regardless of where you lie in the spectrum of love/hate, the Negroni has withstood the test of time and has re-emerged as one of the must-have before-dinner cocktails. Here at Grappa they do serve a Negroni that will make you fall in love with the place. The whisky sour is one classic cocktail that won't make you sour. Here at Grappa, I was introduced to two new varieties of sour which I strongly recommend. Ingredients such as Kashmiri walnuts infused bourbon, lemon juice and passion fruit goes into their Indian Sour which is surely going to be a trendsetter. Following it was the Pisco sour. A pisco sour is a South American (both Chile and Peru claims this classic as their own) cocktail. The drink's name comes from pisco, which is its base liquor, but with strong enough heat to open your sinuses. Surprisingly, it tastes a lot smoother than it smells. The cocktail had a relatively clean, simple taste. The lemon and sugar work remarkably well to tame the Pisco, allowing its flavours through but pulling back the fiery kick, producing a very drinkable cocktail. Thanks to the egg the drink has a lovely silky quality which I'm sure helps smooth out the roughness of the Pisco too. The Al – Fresco area of this newly opened restaurant is surely our favourite spot to be. Chef Neeraj Tyagi, Executive Chef, Shangri- La's Eros Hotel, explains us about "Cicchetti" the menu of Grappa, which means "to start" and is inspired by the a model of fiat car by the same name and where it means to give a rocket start to the car. In terms of food although, it simply means those appetizers and small plates with which you begin your meal similar to the Spanish "Tapas".
Grappa is surely a pre or post dinner bar where you can enjoy soothing cocktails and lip smacking food before visiting their authentic Italian restaurant "Sorrento" or their signature Chinese restaurant "Shang Palace" for dinner.
Quick Facts
Operating Hours: 12:30 pm – 1:00 am
Cost for Two : 4000 for 2 including alcohol
Address: Lobby Level, Shangri – La's – Eros Hotel,New Delhi, 19 Ashoka Road, Connaught Place, New Delhi 110001