Thai Pavilion at the Vivanta by Taj celebrates Thailand's boat racing festival with a selection of culinary delights from the beautiful country. Under Chef Prajuab Shoosridam, the restaurant is offering you delicious flavours from July 22-31.
Dragon Boat Festival
The Dragon Boat Festival (Duanwu Festival, Duānwǔ Jié, Double Fifth, Tuen Ng Jit) is a traditional holiday that commemorates the life and death of the famous Chinese scholar Qu Yuan (Chu Yuan). The festival occurs on the fifth day of the fifth month on the Chinese Calendar. The Dragon Boat Festival is a celebration where many eat rice dumplings (zongzi), drink realgar wine (xionghuangjiu) and race dragon boats. Other activities include hanging icons of Zhong Kui (a mythic guardian figure), hanging mugwort and calamus, taking long walks, writing spells and wearing perfumed medicine bags.
All of these activities and games such as making an egg stand at noon were regarded by the ancients as an effective way of preventing disease and evil while promoting good health and well-being. People sometimes wear talismans to fend off evil spirits or they may hang the picture of Zhong Kui, a guardian against evil spirits on the door of their homes.
Food Talks
We start with the classic Thai treat Som Tam Koong Sod. It is a raw papaya salad with Shrimps. The heat from chillies and salt from soya sauce gives it it's characteristic taste. Next on our plate was Kai Hoi Toey in which the earthy flavour of pandan leaves and the flavourful chicken morsel created a perfect balance. For the mains we tried the Bak Chang Heaw. The water chestnut gives it crunch and the red chilli paste provides it a spicy touch. The main highlight of our meal turned out to be Bak Chang Moo, succulent pork and mushroom dipped in oyster sauce which enticed us for more.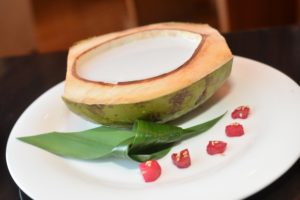 We ended the meal on a sweet note with two of their signature desserts. Tako, a coconut and rice pudding which had a pandan flavour in it and turned out to be a joyful dessert with simple flavours. Woon Mapraow Orn is tender coconut jelly. It was not too sweet and turned out to be an ideal dessert for us.
Treat your palate to these hand-crafted masterpieces created by expert Chefs at Thai Pavilion and rejoice in the festive flavours of the Orient. Let us know what stood for you in the comments below.
Dates- July 22 to 31, 2016
Venue- Thai Pavilion, Vivanta by Taj- Gurgaon, NCR
Timings- Lunch 1230 hrs to 1500 hrs and Dinner 1900 hrs to 2300 hrs
Pricing- A la Carte