A restaurant where dining meets shopping, a hotel where luxury meets a relaxed vibe. This is probably the best way to describe Annamaya, the 24-hour dining cum retail destination at Andaz Delhi. The youngest child of the Hyatt family is chic yet opulent in its own subtle ways. Flavours are being married with sustainability as Executive Chef Alex Moser and Chef Vipul Gupta are creating a menu that covers the whole of India. But it's not just the flavors that impress at Annamaya. It is the use of artisanal and organic products that set it apart. By artisanal, it isn't the bored-rich-housewife-turned-artisanal, but the actual product which benefits and empowers weaker sections of the society.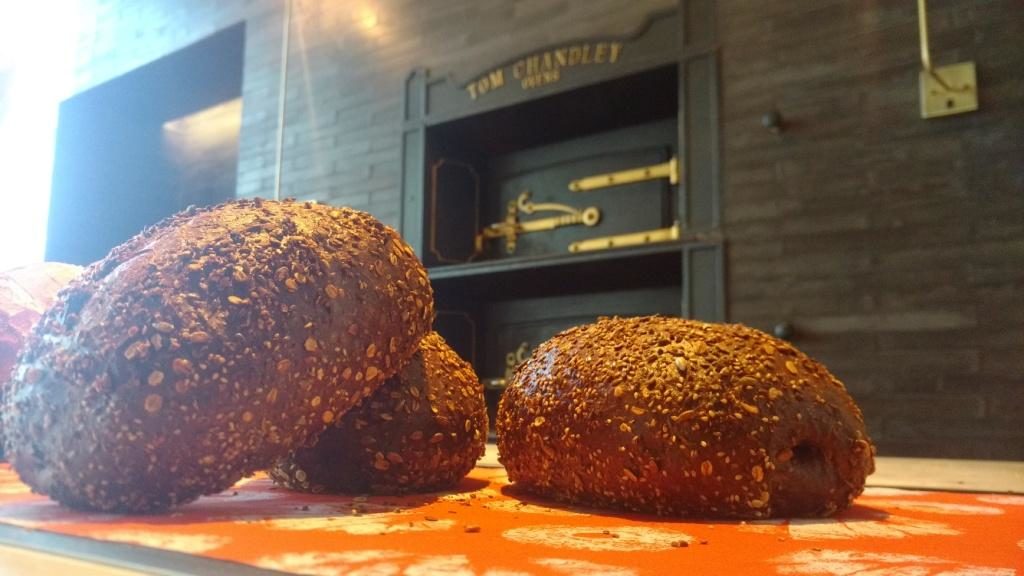 What all did we try out at Annamaya?
Annamaya is as much about Anna(food) as about Maya(magic). What else can I say to a place that puts the dessert counter at the front or serves out a Matcha flavored Lassi. As I sip on a Cucumber lemonade, I decide to check out the Salad section. Although it's pretty similar to ones you would find elsewhere, the magic happens when the chef reaches into the refrigerator, pulls some micro-greens right from the soil, washes them and puts them in my salad. I am already too bewildered to notice some humongous ripe figs which have been brought over from Karnataka and a dollop of freshly made Burrata. The creamy sweet figs explodes against the Burrata covered with some crushed red pepper.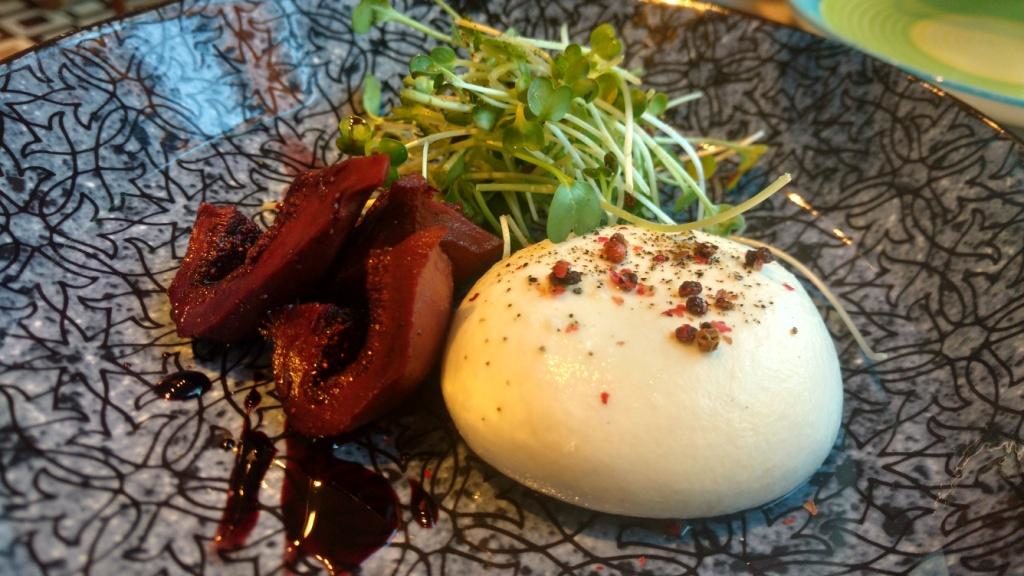 The menu at Annamaya isn't cyclic, it's more seasonal. Although it's pretty chilly in Delhi, Chef Vipul seems to have gotten his hands on some succulent raw mango and he puts them to some good use. He tosses it around in a salad with some avocado but it's the Mango Curry that I actually fall in love with. Made in a typical Malayali style with Coconut Milk and Curry Leaves, he combines it with an unlikely red rice from Tamil Nadu.
Another dish that quite caught my eye err palate are the lamb chops. Grilled with a smoky texture and a texture that is soft on the teeth, its the accompanying tamarind yogurt chutney that had me lapping up both the pieces. Although the dessert counter was right at the start and I would have loved to jump in straight into it, but tis' a story for another day. A Chocolate Chili Gelato served in one of these beautiful scones is all you need to have while mentally planning your shopping list from all the organic products displayed on the walls.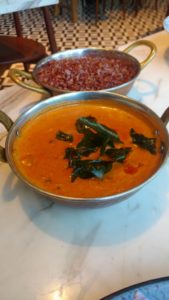 To say that I am in love with Annamaya is an understatement.