Marine fauna is something that we Indians have never experienced. On a recent trip to America, I crossed this off my bucket list. The Sea Aquarium at Miami gave me a perfect introduction to checking out dolphins, killer whales and other sea animals.
What I saw?
I'll start with the biggest, most badass showcase in the whole aquarium. Lolita, the giant killer whale prancing through the water in a series of turns and jumps made me gasp at the agility of this huge bodied predator. She was accompanied by Pacific dolphins whose intelligence has always been considered legendary. The antics Bottleneck Dolphins in the Rock n Roll cruise is something that stops you in your tracks.
What I did?
Although I have forever loved observing from the sidelines, this time I decided to jump in and experience these animals for myself. Although the tickets cost a bomb ($120), it was well worth it. The Dolphin Encounter had me swimming, touching and actually petting dolphins. Although I was afraid at first to get into the territory that is so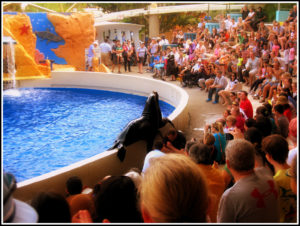 natural to these animals, it's almost as if the dolphin understands your fears and goads you slowly and steadily. A surrealistic and humbling experience that truly showed me that research about their intelligence is not falsified. Emboldened by my encounter with the dolphins, the Sea Trek Reef Encounter($100) seemed pretty inviting. A 20 minute dive through a plethora of marine animals like sting rays and other fish. Although the events sound very awesome, but the limited amount of time swishes past pretty quickly leaving you hungry for more.
The next exhibition that I really wanted to check out was the newly built Penguin Isles which houses the African penguins. The waddling creatures will make you fall in love with their cuteness. A normal entry ticket costs $45 and the animal interaction ones cost above these. Do tell us about your favourite aquarium and we'll try to review it on the blog. You can visit their website here.