Yin and Yang describe how seemingly opposite or contrary forces may actually be complementary, interconnected, and interdependent in the natural world, and how they may give rise to each other as they interrelate to one another. Yin is feminine, black, dark, north, water (transformation), passive, moon (weakness and the goddess Changxi), earth, cold, old, even numbers, valleys, poor, soft, and provides spirit to all things. Yang is masculine, white, light, south, fire (creativity), active, sun (strength and the god Xihe), heaven, warm, young, odd numbers, mountains, rich, hard, and provides form to all things. Executive Chef Nikhil Rastogi curated a special menu to celebrate the marking of the Yin and Yang festival at Empress Of China, Chinese speciality restaurant at Eros Hotel, Nehru Place.
Food Talks with Yin and Yang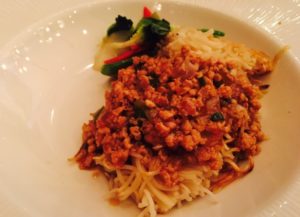 We started our meal with Asparagus corn and mushroom salad. ""A light and refreshing balanced salad with sweet corn and a tangy dressing. Yummy spring/summer treat. Next on my plate was Cristal Dimsum. Veg dumplings served with burnt chilli oil done with a bit of a sugar to balance. It was indeed a lip smacking treat to the tastebuds. Following it was Then was served Vegetable Salt and Pepper – an assortment of crunchy veggies with the flavour of each kept intact. Simple, but simply a must-try. To some, it may feel a bit high on pepper but those who like it strong will love it.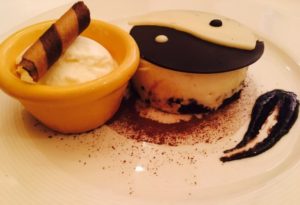 After enjoying delectable appetizers we headed to try the mains. Diced Chicken tossed in Sichuan pepper and chillies stood out to be the star. Garlicy and buttery chicken in a savoury black pepper sauce was a decadent affair. The meal ended on a sweet note with their signature dessert which is Jasmine infused dark and white mousse. Do try out the Yin and Yang festival at Empress of China, Eros Hotel if you're in mood for authentic Chinese chow. The festival goes on till Marxh 23. Price: Rs 1,500 + taxes per person.