Vietnamese cuisine which is known to be one of the healthiest cuisine in the world, was served to us by Cafe, Hyatt Regency Delhi. Ambiance of this place can be defined as classy and decent. The place is popular for its buffet spread and calm ambiance.
A little Brief about the cuisine
Talking about the Vietnamese cuisine, in this you will find two universal themes. Rice and fish sauce. The dishes consists of range of herbs including lemongrass, mint, Vietnamese mint, long coriander and Thai basil leaves. Interestingly each dish is accompanied by a kind of herb. One of the interesting fact is that the ingredients used to cook Vietnamese food is different during different months of the year. During summer, the food is lighter and a lot of vegetables are used in dishes, while in winter pork and beef are used a lot.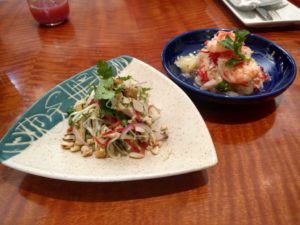 Talking about the Dishes
Chef Quoc Vu Hoang and Chef Thi Tin Ho presented us with some exquisite delicacies of Vietnam. Starting with salad we were served with Pomelo and Prawn salad, Gỏi bưởi tôm thịt. Pomelo is a citrus fruit was giving a sweet flavor while white cabbage along with peanuts added a crispiness to it. The combination of ingredients in the salad was fool proof which led to a freshness which a salad requires. Next we were served with the traditional Vietnamese spring rolls Gỏi cuốn tôm thịt which is a fresh and a healthy recipe, full of veggies, lean meat and shrimps so you can chow it down with less guilt. These are covered using rice paper sheets. Next was Seafood spring rolls, Chả giò hải sản which were deep fried and quiet different from the former one. They were crispy and at the same time juicy too.Chicken noodle soup Canh dưa leo nhồi tôm was having flat white noodles along with cucumber,shrimps and garlic broth. Cinnamon played a great role in adding an aroma and a delicious flavor to the soup.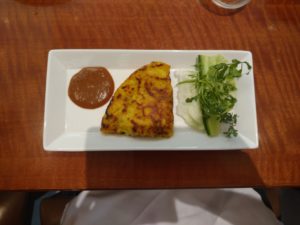 In the main course we were served with pork along with yellow thin noodles known as glass noodles. Pork was tender and noodles went well along with the pork. Steamed fresh tofu V Đậu hủ chưng tương, with a flavour of soy bean. Tofu was delicious. Five spices grilled chicken Gà nướng ngũ vị, sốt ớt xanh which gave an upper hand to the main course and was a delight to eat.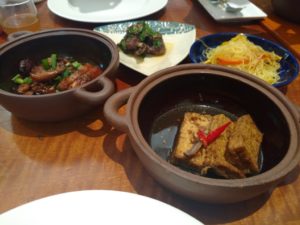 Coming to the desserts we were served with yellow sweet corn soup Chè bắp Hội An, having a coconut flavor. I must say it was very different and yummy from the desserts we have in normal restaurants. Next the sago banana dessert Chè chuối chưng was kind of sago kheer along with a banana flavored soup which added a uniqueness to it .All in all it was fantastic and we had a great Vietnamese lunch. One must try these dishes in order to explore this wonderful cuisine which has its own unique flavors.