They say that researching for an article takes you places. So while compiling the best places to eat North Eastern food in Delhi, I chanced upon the Nagaland's Kitchen in Green Park. Situated in the old Upahaar cinema complex, the restaurant has a twin style ambiance. The walls of the lower zone are adorned with spears and traditional items from the tribal Naga household. The top floor on the other hand is a chic dim lighted bar taking its roots from America. Owner Chubamanen Longkumer meets me as my lesson in Naga food begins.
What we ate?
Contrary to popular belief, the ebullient Raja Mircha or Bhoot Jholakia is not the only dominant ingredient in their cuisine. A plateful of different chutneys adorns our table soon after. From the pungent fermented soyabean and bamboo to the crispy spicy pork pickle, the range of Naga chutneys will bewilder you. There is also a dried fish pickle which gives a beautiful sour taste on the palate.
The Pork Ribs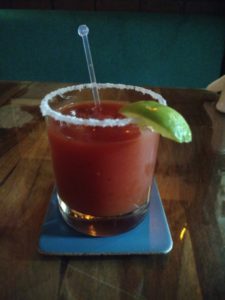 Although Naga cuisine is bereft of a course meal, Manen has introduced an Ambrosu soup. Made with a load of meat and black rice, this nourishing soup is a definite try out on your first visit to Nagaland's Kitchen. Now North East is a place where pork is the primary protein, thus making them one of the best servers of the meat in Delhi NCR. I dive into their succulent pork ribs. With a large pad of fat around it cooked to crispiness, the Raja Mircha just accentuates the amount of flavour.
We also tried out the signature Raja Mircha bloody Mary. Although you might think that the heat is unbearable, most of it comes from the pepper surprisingly. The mains are a surprisingly different affair as Manen decides that our palate is ready for some experiments. He serves out the ebullient smoked pork. Cooked with wild basil flowers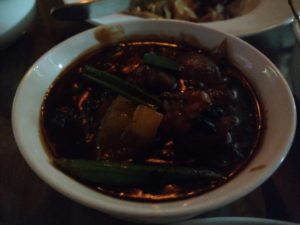 which are transported in from Nagaland weekly, the pork has taken on flavours of majestic proportions. There are loads of umami and sweetness topped off with a hint of sourness as you chew on the smoked meat. We wolf it down with some steamed rice. Indian breads just don't cut the grade here.
The restaurant's menu also features some Chinese and Thai fare in case the flavours get too​ strong for you. Do try out Nagaland's Kitchen if you are in the search of some food beyond the ordinary.