On The Waterfront at The Lodhi has always been a resplendent restaurant to dine in. With the typical feel of an modern European restaurant, On The Waterfront has been a known entity in the South Delhi market. With light streaming in through the large glass walls, dining at The Lodhi has always been a pleasant experience. The Jetty, a private section of the restaurant surrounded by glass and water is one of the most romantic places to dine in Delhi NCR.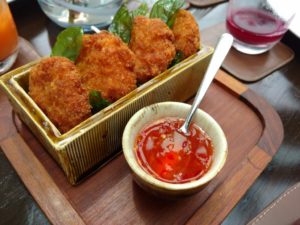 On The Waterfront is running a Thai food promotion till 31st August 2016. With Chef Tarathip at the helm, the kitchens at On The Waterfront is serving some delectable Thai delicacies. Thod Mun Goong is a shrimp cake which packs loads of flavour of lemongrass along with the sweetness from the shrimps. It's the salads the lay open the heart of Thai cuisine's freshness. In the salads, the Som Tum is a raw papaya salad with the earthiness of peanuts, the heat from chillies and salt from soya sauce. The Salmon Sashimi hits your taste buds with a jolt of flavour from the lemon grass, shallots, kafir lime leaves and spicy lemon sauce enveloping the characteristic texture of Salmon. The Tom Yum grizzles you with it's heat, the strong aroma of Galangal and Lemongrass combined with the sweetness of the prawns.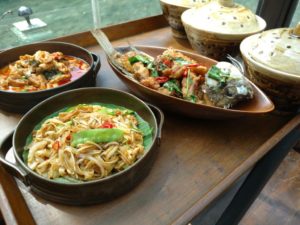 The Tom Kha Llins, a vodka based cocktail made with Thai herbs really impresses with it's balance of flavours. The Mains consist of the decadent Gaeng Kiew Wan Pak (Thai Green curry with mixed vegetables and silken tofu). The distinct creaminess from the coconut hits you like a rock as the spices tango with your taste buds. The Pla Rad Prik is a fried Tilapia fish with Thai chilli, fresh basil and fish sauce. The simplicity of fish gets perfectly accentuated with the even simpler tastes of chilli and sourness. The Panang Gai (chicken thigh in Panang Curry) is perfectly balanced with the taste of kaffir lime and fresh basil. We combine it all with Pad Thai (classic flat noodles) and Khao Phad (Thai Basil fried rice).
But it's their desserts which take your breath away. The Tub Tim Krob is a sweet concoction of coconut and aromatic jasmine syrup with small pieces of water chestnut to give it a chewy texture. A dessert  that makes you ask for repeats. Chef Tarathip's food is something that you want to be truly thankful for. An experience worth remembering and sharing. The festival is on till the end of the month so hurry if you want your fill of authentic Thai food. On the Waterfront also has a massive buffet spread on weekends and an alcoholic Sunday Brunch(INR 3950++) that will blow you away.