Teppanyaki means "grilling on an iron plate" and is a style that was introduced by the Misono restaurant chain in Japan, but has gained popularity across the world. In a typical Teppanyaki restaurant, the diners are seated around the Teppan and are served directly by the Chef. The format encourages interaction with the chef, while the cooking style uses fresh ingredients and emphasizes natural flavours. As a form of cooking which is slowly but surely finding acceptance amongst the diners. To popularise it further, Radisson Blu, Paschim Vihar is hosting a Teppanyaki food festival at Indayaki. According to Chef Vikas Pant, Head Chef at Radisson Blu – PaschimVihar, Teppanyaki is kind of thing people have heard about but not many have tried. This is an effort to make this food popular among the diners and to experience it to the fullest Indyaki will bebthe best suitable place at Radisson Blu, Paschim Vihar.
Food Talks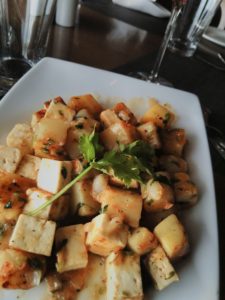 We started with Broccoli and bean curd with barbecue sauce. Acting as a sponge tofu soaks the flavour of the barbecue sauce and compliments the broccoli really well with a nice tang and sweetness overall. Moving on, we tried cottage cheese and crispy potato in coriander sauce. Coriander paste is considered as a nice accompaniment with Indian snacks but with the genius act of Chef Vikas Pant the dish turned out to be a highlight of our meal. Next, we tried flambéed tenderloin steak with garlic chips and teriyaki sauce. Just a mention of this dish and my salivary glands instantly starts to kick in. It had a buttery tenderness which compliments the teriyaki sauce and also retains the flavour quite well. We at Salt and Sandals are not the biggest fan of Chicken, but the Tori Teppan was one of the most memorable experience with a chicken dish after a long time. It was tender, buttery chicken with a zesty sauce and assorted sauteed veggies.
The noodles preparation Udon Noodles was a simple and fragrant mixed vegetable based dish prepared on the grill. The teppanyaki was the star of the show, with the chef deftly using his spatulas to prepare chicken on one side of the griddle and a vegetarian combination with mushrooms, sundried tomatoes , beans and broccolis on the other. Fans of oriental cuisine will definitely enjoy the new Teppanyaki festival at the live counter, watching the chef prepare different dishes as they have their food.
Factsheet:
DATE : 5th August to 15th August, 2016
VENUE : Indyaki, Radisson Blu Paschim Vihar, New Delhi
TIME : 7:30 PM to 11:30 PM
PRICE : Rs. 645 + taxes per person