Tashan is located at ever-buzzing M block Market of G.K-2. The brainchild of Restauranteur Akshay Adya is turning out to be the latest buzz-spot for food lovers in South Delhi. The word stands for "attitude" but here the place provides an old world charm and their main USP is the food which is a fusion of contemporary and authentic North Indian food. The comfortable ambiance of this place is warm and cozy with yellow lights and sophisticated interiors. The collection of wall paintings are really indulging and can unravel many travel tales that inspires one to travel and see the world. Relaxing ambience, lip smacking food, comfortable seating and a sprawling bar churning out soothing classic cocktails defines the beauty of this fine-dine restaurant. The soothing music playing in the background provides an apt atmosphere to relax and unwind a busy day.
Food Talks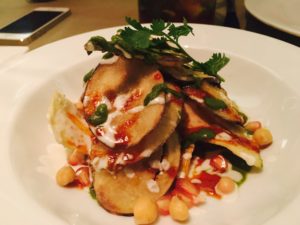 As per the cocktails, Pineapple Mojito and  Whisky Sour are a must try. The smoothest concoction of whisky with pineapple. They also offer a Lentil Soup in shot glasses. Following it was the Bacon wrapped prawns were delicious. Prawns were very delicately handled and together with bacon it did wonders on my palate. Pocket mein Pulled Pork had the pork with all juices served and was served in soft pita bread. We ended the journey on a sweet note with Bhuni Roti Ka Halwa, which again is a really nice creation. It was very smooth in texture, wonderful in taste and was served with a side of biscuit crumb, a must try dish. Baked Yogurt with Fig and Honey on the other hand is a beautiful maple like consistency and flavor profile to that Honey and better yet this dessert is minus any artificial sweetners including sugar.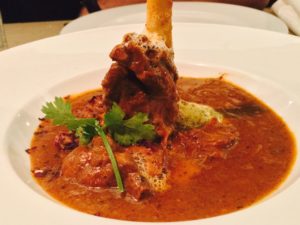 In a nutshell, as the name stands true to its meaning this new entrant in GK 2 M-Block market has the potential to be earning and enliven the pride in the days to come. Having the idealistic location, this contemporary newest kid on the block boasts of Indian Fusion palette to tantalize your taste buds. The owner Akshay and his team headed by head chef Jitin have tried their best to curate a nutritious, adroit and a quality menu . Moreover, within the span of 4 months, since the time of the launch, the restaurant has already build up its niche clientele and will be continuing serving the best.