Rajasthan has been a strong hold of the Rajputana. The royal families built a plethora of forts and palaces all over the desert countryside. With the accession of these princely states post Independence, many of them were converted into boutique hotels. Although the Rajasthani fanfare and royal comforts are very enjoyable, a break in between all the history is much needed. The WelcomHotel, Jodhpur is one such modern amenity.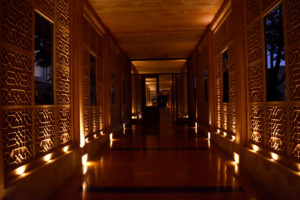 The WelcomHotel is fashioned after the desert itself. Not adhering to the traditional concept of fort hotels in the heart of Rajasthan, this ITC hotel's gem flows boundless like the desert. The are some very interesting concepts that will make your stay in Jodhpur that much more interesting.
The food
Executive Chef Akshraj Jodha's food is experimental and something that you must try out.
Read here about Chef Jodha's progressive Rajasthani Food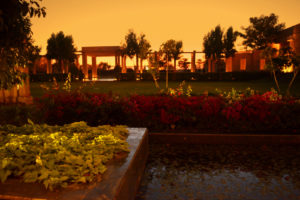 Two dishes that I missed to tell you during my last post were during Lunch. The beautifully adorned Desert Rose hosts our meals The Mayo Mutton Curry is a throwback to the mutton curry made in Mayo College, Ajmer. He puts the mutton curry on top of a Bajre ke Roti. Now a Bajre ki Roti is something that is very dry. But the juices and the sauces from the meat soften up this Indian bread. The next dish that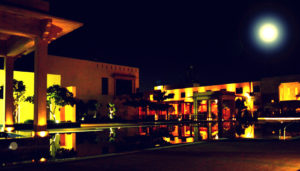 draws our attention is the Thar Pulao. The arid desert of Rajasthan has a lack of rice dishes. But this one comes from the areas of Sindh and gives out a complexities of flavours, akin to a Biryani.
What to do at WelcomHotel, Jodhpur?
The evenings are a scene to behold. Some cultural performances light up your evenings as the beautiful lawns of the hotel is covered in lights.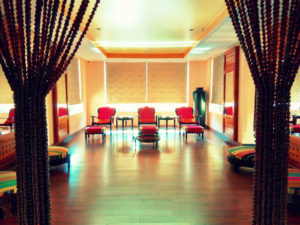 The large walkways of the hotel are covered up in light yellow lights that you must truly see to believe. The swimming pool has a beautiful adjoining bar giving you the perfect way to relax yourself during the summer months. The multiple spacious lawns are perfect to celebrate all your events. The traditional artisans are also promoted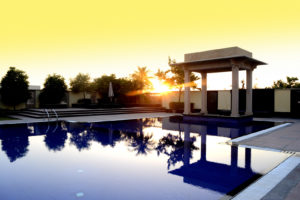 The WelcomWellness spa allows us to relax completely. With a room specifically for the dry Thai massage, the stretches and pulls eases out the knots in my muscles. Walking around in the surrealistic surroundings allowed me to unwind from the stress of daily life. So next time you're visiting Jodhpur, base yourself at WelcomHotel.
Pin it…