Executive Chef Subrata Debnath leads the effervescent culinary team of chefs at the Vivanta by Taj – Gurgaon, NCR, the 100th hotel of the Taj Group. With a rich and diverse experience spanning 25 years, 10 unique destinations across the world and several international brands, Chef Debnath is known for his love for food and passion for perfection.
Born and brought up in the steel city of Jamshedpur, Chef Debnath embarked upon his career with the Taj Group in Bangalore. Apart from various assignments in the Taj, he has spent close to a decade with Hyatt Hotels Corporation, working in its properties across South Asia – Kolkata, Singapore, Bangkok and Kathmandu and Chennai. He has also worked with the Hilton at its hotels in Dubai and Bahrain and also at the Swissôtel in Kolkata.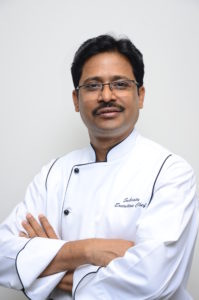 A seasoned gourmand and a food connoisseur Chef Debnath's culinary repertoire ranges from the authentic to the contemporary. He crafts his dishes with love, passion and artistic touch and strongly believes in food that is carefully sourced and thoughtfully served. His easy-to-approach personality makes him idolized amongst his contemporaries.
Amogh Tiwari- What drives you to be in this industry?
Subrata Debnath- The sheer love for food! As a young boy, it was my dream to don the chef's hat in a professional kitchen. My father, however, wanted me to become an engineer. After pursuing an engineering course for some time, I decided to follow my passion for food and cooking and joined hotel school. The rest is history. Today, it gives me immense joy to our guests smile after they have savoured what we have prepared in our kitchen and that inspires me every single day.
AT – Where do you draw you inspiration from?
SD- I derive a tremendous amount of inspiration from many famous chefs in our industry – both in India and globally. Their skills and showmanship are truly admirable and I look up to the benchmarks that they have established for the culinary industry at large.
AT- What would be your advice to upcoming Chefs ?
SD- Patience and positivity is the key. Also, an intrinsic can-do attitude, the ability to learn from one's mistakes and an eye for detail, together makes for a winning combination.
AT- What is the most essential item in your kitchen?
SD- Cooking brings together an array of items and ingredients so it is difficult to single out any one item as the most essential of them all. However, I always lay strong emphasis on local produce and the fresh harvest of the ongoing season. I am of the firm belief that food must be both carefully sourced and thoughtfully served.
AT- What do you cook at home that you never cook at the restaurant?
SD- I rarely cook at home! I love my wife's home-style cooking. She whips up magic in our kitchen with the use of very little fat and seasoning and focuses on the core ingredients of every dish she prepares.
AT- What are 3 tips for running a successful restaurant?
SD- First, never compromise with quality. Second, know your customer so that you can deliver what you promise. And third, choose the most optimum cooking style.
AT- What's your regular comfort meal?
SD- Comfort food to me must be should be both wholesome and pleasing to the palate. My favorites include a fresh, lightly dressed Caesar Salad, a comforting bowl of Japanese-style Udon Noodle Soup, a hearty Club Sandwich, a piquant Nasi Goreng and many others.
AT- If you were to open a new restaurant, what style of food would you pick and where would you want it to be located?
SD- After having worked in several international hotel kitchens overseas, I truly believe that India's diversity, culture and food rituals are unparalleled. The real depth of Indian cuisine lies in the origins. I would love to explore and develop our regional, indigenous cuisines further. I love patronizing dishes that are steeped in tradition and have local, authentic flavours. Kolkata, for instance, is one of my most favourite cities and I love it for its food history.
AT- When you're at home or someone else cooks for you, do people feel pressured to cook you something fancy because you're a big a celebrity chef yourself?
SD- As mentioned, my favourite chef is my dear wife! Besides, I am a very easy-going person at heart so I don't think that those who cook for me feel pressurized to do so. Cooking is an art and to me food that is cooked with love and passion, is reflected on the plate on which it is served.
AT- Mention one project which is very close to your heart?
SD- I have spent 25 enriching years in the industry and have had several memorable moments especially during hotel and restaurant pre-openings. The one opportunity that I am truly glad that I was a part of was the re-launch of 'Strait's Kitchen', Singapore in 2006. I curated the entire re-launch from the concept to the setup, display cooking style etc.