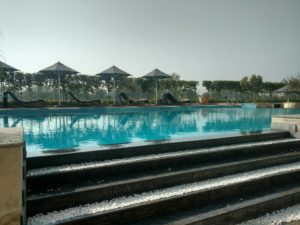 Nestled bang right in the bustling part of Chandigarh, the Amaira Spa & Club at Hyatt Regency Chandigarh provides you an oasis of calm as your run away from the hectic life of the city. Spread across a single floor, this tranquil award winning spa de-stresses you thoroughly. There are total of five therapy rooms with one earmarked for couple therapies. But what sets this luxurious spa apart from others in the city is the presence of a personal space each one of it's lavish spa rooms. With steam and a Jacuzzi in each one of it's spa rooms, the spa makes your transformation to tranquility that much better. The spa also has a Tony & Guy salon for all your beauty needs. A beautiful infinity swimming pool and a well stocked gym with a yoga room completes the itinerary.
Read our review of the Club Olympus Spa at Hyatt Regency Delhi
We book yourself in for one of their most invigorating massage therapies, The Sports Massage Therapy. My therapist Cheering guides me to my therapy room which again throws up a surprise with the amount of spaces it gives you. The room is clutter free with the minimalist decor of the hotel being represented in the spa.
What we tried?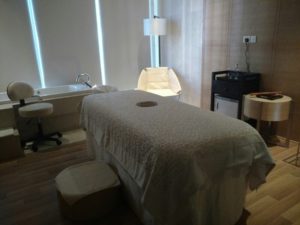 The Sports Massage opens with a traditional foot ritual, an ancient tradition symbolizing a purifying of the soul. The foot ritual opens up the positive energy channel. Another point of difference is that the foot ritual which incorporates a foot massage. This particular massage starts your rejuvenation instantly.
This is followed by a 60 minute session of massage to loosen tightened up muscles and eke out sore nerves. The Sports Massage is a deep tissue massage which starts off with dry Thai stretching techniques. My therapist stretches out the muscles and tendons. She then follows it up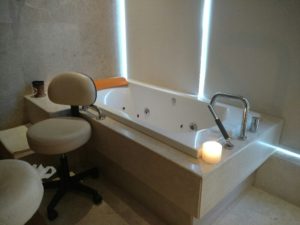 with a gradation of pressure techniques. She starts with her fingers then moving onto her knuckles followed by her arms and then finally with a Bamboo Stick. The Bamboo Stick flattens out all the knots that you might have. She then follows it up methodically all over my body to loosen out all my knots.
The massage ends with a face massage which focuses on specific points on my face along with the jawline to completely relax me. A dip in the hot Jaccuzi is what you need after the massage to wash away all your tiredness and feel all prim.
Read the review of the Shvasa Spa at Hyatt Regency Gurgaon
So next time you are visiting Chandigarh, do not forget to visit the Amaira Spa & Club to rejuvenate you.