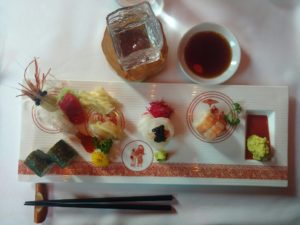 Ever since the time I first tasted Sake at the winter menu of Megu at The Leela Palace Hotel, New Delhi, I have become a fan of this drink. So when Tokyo was awarded the right to host the Olympics in 2020, I plan to discover this fast moving city through its famous drink.
What is Sake?
It is a rice wine that is made by a process of fermenting special rice after removal of the husk. The production of Sake is quite different from that of wine. In wine, the fermentation of sugar present in the grapes

happens. But the fermentation process of Sake is pretty similar to that of beer where the starch from the rice is slowly broken down to sugars before fermenting. Although the clear liquid is pretty smooth on the palate, do keep in mind that it has 18-20% alcohol and gives quite a good kick.
To discover the best ukeleles, click here
Why Tokyo's Sake?
One of the most important components of Sake is water. It is used to multiple steps right from washing of the grain to the dilution before bottling. The different minerals in the freshwater combines to create its taste profile. Tokyo's production of this historical drink dates back to the early 17th century of the Edo period. Its clear groundwater with a high quantity of minerals leads to a beautiful combination of flavours on your palate. It combines with salty Soy based dishes so characteristic of the Edo period.
Pairing
The beauty of this alcohol is in its multifaceted nature. Many of breweries produce Sake which is complementary to the food found around it. The light bodied one go perfect with lightly seasoned food and seafood while the heavy bodied ones go well with the heavily seasoned food. Some of these light bodied ones can also be found near the coastal areas while can be easily paired with the seafood.
Tour of Ozawa Brewery
But all the Sake knowledge cannot prepare you for a trip through the majestic Ozawa brewery. The brewery was established in 1702, a history dating back 300 years and is the oldest brewery in Tokyo. Although located within the city of Tokyo, the brewery offers you an insight into it's preparation. The 45 minute guided tour gives you a low down on the different types of Sake. But the main attraction is the fresh spring water pouring in through the rock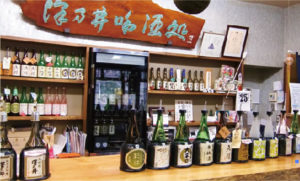 formation. Finish off with a tasting to complete your brewery tour.
Sake is a drink that can both be complex and simple at the same time. It typifies the beauty and captures the soul of Japan. So, next time you're heading to Japan do try out Sake.
Image Credits: Go Tokyo and Sawanoi
Pin it..