The house of Rohet is a family of jagirdars who dotted the scene of medieval Rajasthan for a better part of four centuries. Rohet Garh located at half an hour's drive from the blue city of Jodhpur is perfect for a trip of relaxation in India.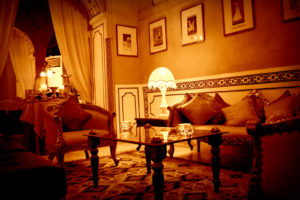 Nearly 400 years old, the Rohet Garh along with it's sister property Mihir Garh take the meaning of experential hotels to an altogether new level.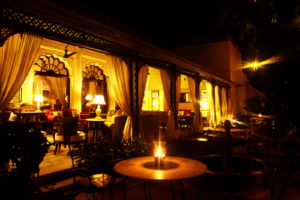 Although Rajasthan is filled with hotels which tend to offer you an insight to the Rajputana heritage, Rohet Garh is one of rare ones which offers you the comforts of royalty with a hint of a rustic feel.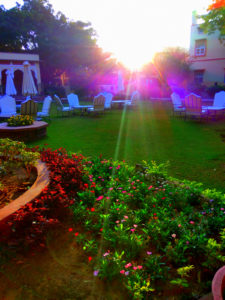 Away from the frills and thrills of the city, Rohet provided us with a chance to unwind and connect with your inner self.
What impressed us at Rohet Garh?
A huge mural depicting the lives of the royals is depicted on the entrance.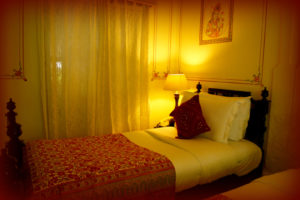 A lush green lawn welcomes us along with Avijit Singh Rohet, the 15th generation
of the House of Rohet. Our room is a cosy little place on the ground floor overlooking the lawns. The beds and cupboards reek royalty but it is an oddly placed pillar and a view to the lake that stumps me. A pillar which I suspected is due to the fact that our rooms used to house the steeds of the Jodhpur cavalry. A beautiful baithak looks out onto the lake with ducks swimming in it.
Food at Rohet Garh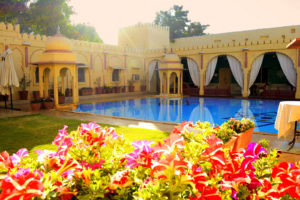 Chef Sharma cooks up a few specialties of the Marwar area. Overlooking the swimming pool, the dining area offers a breathtaking view of the property.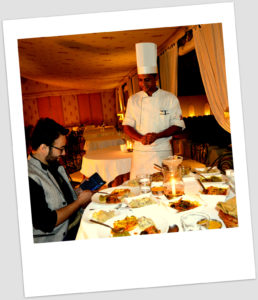 Rabori, Kadhi and a Subzi made with green tomatoes adorns our plate. The Laal Maas is present in all its ubiquitous glory. But it's the sheer opulence of the bar that will make you fall in love with Rohet Garh.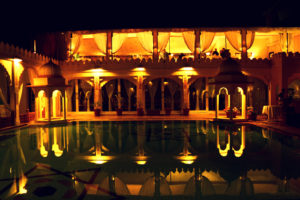 Hard desert wood on the ceilings along with the illustrious history of the family being showcased in photographs. Heavy  chandeliers
and the use of maroon and red complete the look.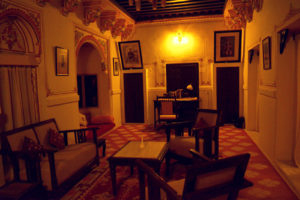 We sipped on a glass of wine as Avijit regaled us with stories of hunting expeditions and horse breeding.
Activities at Rohet Garh
The Horses, Aha! Rohet Garh and Mihir Garh offer an unique equestrian experience along with a plethora of other options. The activities include cooking classes, desert safari and a trip into the heart of rural India.
I will be dedicating another post for these.
Rohet Garh is a luxury property that will offer you an unique experience of Rajasthan away from city life. You can make your bookings here.
Image Credits: Snigdha Bhowmick
Pin it…