The history of Indian music is quite a rich one. But with the introduction of going out and partying, EDM and other forms of music have been ruling the charts. But some people are slowly but steadily re-infusing the flavors of classic Indian music into the Indian society today. Dr Sapna Sehgal is one of these proponents. I recently attended her show at Lodhi Road recently and absolutely fell in love with her performance.
Sapna Sehgal started her musical sojourn as a child artiste. A performer since the beginning, she sang regularly at school and college functions. She started learning music at the age of 10 under Shri Gursharan Singh of All India Radio. Under his tutelage, she sang all genres like bhajans, ghazals, geet and shabads for All India Radio and Doordarshan. She also sang for a regional film and jingles whilst training under him. She then started learning ghazal gayaki from Late Shrimati Neelam Sahni who taught her the nuances of ghazal rendition. Inspired by the works of Sufi saints like Bulle Shah and the gayaki of sufiaana kalam by singers like Abida Parveen, Wadali brothers, she is presently training under Shri Chandrakant Pandit. She has been performing at various platforms like Ibaadat foundation,Sangeet Smriti, Sadhna Trust, Sant Nirankari Mission and Chinmaya mission. She has to her credit a private album "Sadhna".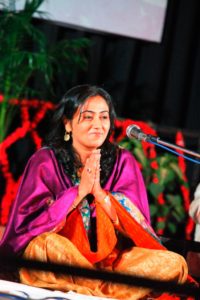 Andaz-e-bayaan is a humble attempt by Sapna Sehgal to present before the audience works of different artists and to be able to highlight their signature styles. Most of us hear poetry rather than read it, so the artiste becomes a vital link between poetry and the audience. The focus of this evening is ghazal singers from Begum Akhtar's time to the presenting artiste of the evening Sapna Sehgal. The flow of Mehdi Hassan's voice is like a broad river that has descended many plains and is now moving smoothly towards its final destination whereas Nusrat Fateh Ali Khan's intensity is like an urgency to be with the almighty and this comes across in their singing styles. Farida Khanum sings offbeat, called the arha style, which creates tension between the singer and the table. This tension is resolved only when they meet at the "Sam", the first beat of the tabla, which means to conjoin or come together.
Through her gayaki, Dr Sehgal takes her audience with her through her journey of music. But what really stands out for me is the way her music influences the youth of today to go back and focus on their roots.