MasterChef finalist Dinesh Patel joins hands with Radisson Blu Agra to curate a masterclass
Agra's mughlai food is a sensation all over the world. But when MasterChef finalist Dinesh Patel joined hands with Radisson Blu under the aura of the magnificent Taj Mahal, magic was created. Hailing from a traditional Gujarati family, this Chef from London had created a furore on the 5th season of MasterChef India show with his dessert making skills, eventually coming to be known as "Dessert King". But Patel himself confesses that MasterChef saw the rising of a Chef who moved away from his self taught methods to become a more complete cook. But here, he does cook up a mithai and a salad for us.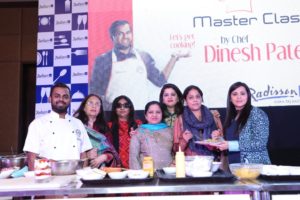 What mithai did Chef Dinesh Patel redefine?
The afternoon saw him pay homage to the traditional flavours of Agra. He uses the quintessential Petha to rustle up a non-vegetarian salad, "Agra Petha Savory Salad". The combination of the sweetness and umami is seamless and quite innovative. Chef Patel brings another of his talents to the fore. His steady hands, made so by regular hours of Mehendi application transforms into some astute piping skills. His next creation is a Shahi Tukda Summer Pudding. A cross over between a canape and a dessert, the traditional Shahi Tukda has been doused in a berry compote and yoghurt rabri. The slight amount of acidity from the berries and the texture they provide raises the Shahi Tukda to a whole new level al together.
I quiz him over a mouthful of his wonderful dessert as he tells me "My goal is to bring the long tradition of India Mithai to the fore. Combining the best of western techniques and Indian flavours to create something like a Rasmalai Macaroon is my dream. I feel extremely thrilled to be a part of the master class hosted by the gorgeous Radisson Blu hotel in the beautiful city of Agra.". Chef Patel was at his creative best restructuring the pride of Mughlai desserts. "Indian food, especially Mughlai is a favourite among your guests. We pride ourselves in serving some authentic Biryanis and meat preparations at our specialty restaurant, Daawat E Nawaab. We are very proud of our food heritage in Agra, and who better than Dinesh Patel to embark on this culinary journey with us" said Executive Director Alka Ladhani.