Vapour bar exchange is set to open its door to the crazy bar traders in global foyer mall, Gurgaon.
Theme and Interiors
It is a type of microbrewery and bar, basically a place where people can see when the prices of their favourite liquors go up and down and when they can bid upon it. The prices of the liquor tend to go up and down on the demands of the customers. This concept is rare in Gurgaon. Interiors of this place will give you a feel of some European bar due to its wooden interiors. This place have 2 floors.
Service
Service was up to the mark. All the servers greeted us with a smile and were well informed about the dishes and the place too. Servers looked like they were very happy to serve us.
Appetizers
Paneer jalapeno tikka was a delicious combination of paneer and jalapeno. Served as pieces of cottage cheese stuffed with filling of jalapeno which is charcoal grilled. Can be simply described as phenomenal. Bbq stuffed chicken is a chicken breast with a filling of zucchini, bell pepper and which is tossed with a tangy bbq sauce. It was juicy, crisp and delicious. For the fish lovers there was a Thai chilly fish. In this the fish is marinated in Thai spices like cinnamon, cloves and star anise and then tossed with spicy sauce. A hot and spicy treat.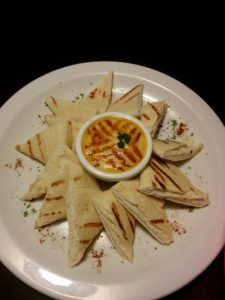 Main course
Hyderabadi paneer masala tawa prepared with mint leaves, green chilli mixed with flavorful Indian spices. It is cooked on a tawa and is served with roomali roti or warqi parantha. This was a show stealer and is highly recommended. Next one was schezwan chicken in which sliced chicken with dry red chilli and peanuts is served in schezwan sauce. It goes well with fried rice or noodles. One of the best schezwan chicken in Gurgaon. Simply amazing.
A place to chill and sort your days with refreshing drinks and superb food treats which will make you go crazy. For memorable days never skip this one.