Organic products are a rage in today's world. With toxic amounts of chemicals and carcinogens present in our everyday products, organic products grown without a heavy use of chemicals is paramount for remaining healthy. For this, we ordered a few products from the organic company Giskaa.
Giskaa has a soothing, minimalistic look which is completely at ease for even a  caveman. But the most essential part about Giskaa is that they are bringing together an exclusive collection of natural and eco-friendly products not just from Northeast India but from across the country. Rare items and foods have been brought together in one place allowing people all over India to reach out to them. There is a plethora of options ranging from clothing to beauty to food. Let us start with a few of the beauty products we ordered. One of the most endearing parts of the website is the availability to chat with either an expert or with customer care at a moment's notice. There are a range of face wash, body gels and shampoos which you can select from. But it's the use of different types of essential oils which impress us the most.
Lifestyle and Beauty Products(Sandals)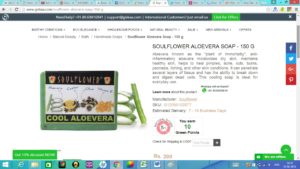 Peppermint and Aloe Vera are two essential commodities for summer. The soothing nature of Aloe Vera gives a skin relief from the burning rays of sun outside while peppermint gives the skin a fresh, sprightly feel. Priced at INR 200, we bought two handmade soaps to keep some company in these summer months.
Sandalwood is something that my mother has been using for years. Lusting after the Mysore Sandal soap, she has taken quite a few rounds of markets of Yusuf Sarai and INA in Delhi. But with the original company decreasing productions, it has become one of the rarer products to be found. A Sandalwood Body Wash for mom is the perfect Birthday gift for her.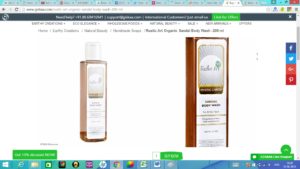 Although the females in the gang have their beauty care up to date, it is the men who suffer the most in the summers. With their thicker skin and beard, the sun plays a havoc on it. A after shave gel with aloe vera, tea tree oil and Vitamin E helps protect against all the open cuts of the freshly mowed hair against the sweat.
These summers, Moroccan Argan Nut Oil has become our favourite. The Argan Nut Oil is rich in Vitamin E, an essential nutrient for hair growth, so a combo pack of Shampoo and Hair Oil is godsend.
Food Products(Salt)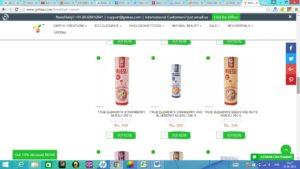 Let's move to the food now. Breakfasts are seeing a sea of change today. The highly glycemic corn flakes is slowly being replaced with superfoods that pack a truckload of nutrients in very small quantities. You can select your own products that make for a perfect, healthy bowl of muesli. Oat Flakes are a great source of Vitamin B1, Iron, Proteins and dietary fibres. A range of pre packed muesli is also available in the form of strawberry and cranberry.
The North East prides itself on it's range of chillies and non-vegetarian dishes which are rarely found in other regions. We weren't let this option go as we grabbed onto the hottest of them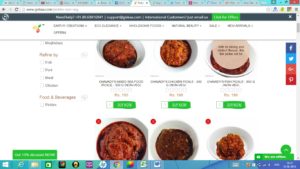 all, the Bhoot Jholakia. The former no.1 on the Scoville Scale, the Bhoot Jholakia flakes has multiple uses besides the traditional use of putting it in curries for that extra kick. You can pretty much substitute it for your regular chilli and feel the difference. But it's the pickles we were lusting after for a long time. We fell in love with the non-vegetarian pickles on our first visit to Meghalaya and Assam. But the crux of the problem was that only two regions of India actively made these pickles, the other being Kerala. A whole range of pickles ranging from fish, seafood all the way to chicken and pork made us superbly happy.
So, now you don't have to meander around for organic stuff in this sweltering heat, check into Giskaa.