In an ever changing dynamic culinary scene of New Delhi, here comes an iconic restaurant which will take one's food experience to the next level. After achieving a great acclaim and success in Mumbai, Massive restaurants and Zorawar Kalra present you The Masala Library by Jiggs Kalra which threw its doors opened for the crowds of the city. The first one to introduce molecular gastronomy in Indian cuisine, it has certainly modernized the contemporary Indian cuisine in style.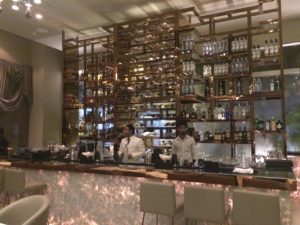 As of now The Masala Library is only open for dinner slots and is very soon be open for lunch as well. The location could not be more posh as the 60 seater restaurant is located right next to the Le meridian hotel on Janpath road. The ostentatious décor will blow your mind as you enter the dimly lit, white toned area. The standards of the Food and Beverage service are top notch and in simple words it cannot get classier than this.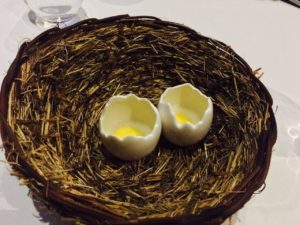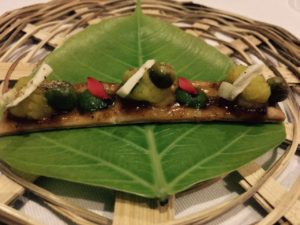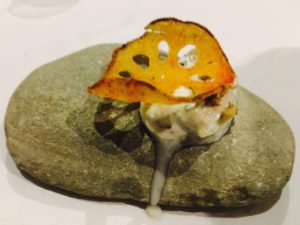 The menu offers a variety of handpicked dishes from across the sub continent and has a huge wine and single malt list. The best part is that there is so much innovation and cutting edge technology used, but the authenticity of the flavours has not been compromised. This branch takes a step ahead from the one in Mumbai with some new introductions.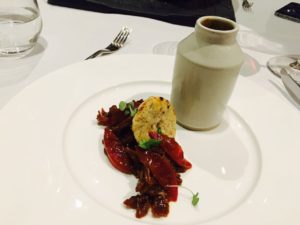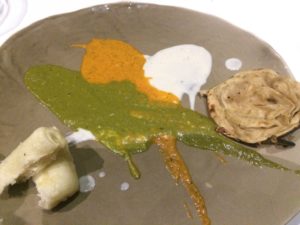 One may not like chef's tasting menus at restaurants, as chefs take control of what is being served, with low portion sizes and miss match combinations. But here it's recommended you choose the 19 course menu which has been crafted to perfection by Chef Saurabh Udinia and Chef Himanshu Saini with some uniquely presented delicacies from across India. Though the portion sizes are small, in the end of the 90 minute journey one won't feel overeaten or otherwise. It's designed in such a way that the outcome is simply perfect as the service of the course is timed with precision paired with some great wines. The servings start off with the Amouse Bouche, a faux egg which is coconut water as egg white and sphere mango pulp which takes a shape of egg yolk. After that there is an avalanche of some beautifully conceptualized starters, Madhur Vada, Deconstructed Samosa, Curry leaf Prawns and Delicious Naga pork with black beans and bamboo shoots to name some.  The Mushroom chai gives you an aromatic break in between and prepared live with dehydrated mushrooms, tea leaves, sugar and truffle oil. The Galouti pate with Sheermal leaves a burst of flavours followed by the robust Tawa Keema with bitter gourd. Frozen sticks of chatpata pink coloured anardana and cranberry juice are served as a sorbet which cleanse your palate. The main course begins with delectable Hard pulled duck with Plum korma and believe me this one is the highlight of the meal. In the mains also served were the Fermented Dal pakodi and the Curry trio in which 3 types of Indian gravies are served with a soft lacha parantha. The desserts give the perfect ending to the meal. The Ashten kulfi, the grey colour of which was given by burnt and powdered banana leaf. Their signature Jalebi Caviar with rabdi foam is a much lighter version of what we usually expect from a jalebi. The breathtaking presentation of the Levitating chocolate balls served on metal plates, rotating mid air is not only worth a watch but also leaves a heavenly taste.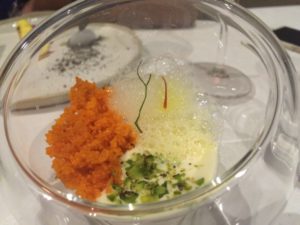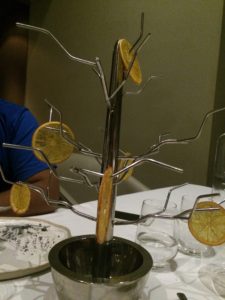 Make your reservations in advance and be there as this place deserves a visit on a special occasion as it's surely going to bowl you over.
Address for Masala Library:             21A, Janpath, Central, Delhi NCR
 Price for The chef's tasting menu: INR 2200 plus taxes per person (without alcohol)