There are some places that blow you with it's grandeur. The Tijara Fort Palace sitting stop a hill near the Tijara Jain Mandir is one such place. By 1845, the uncompleted fort built under the aegis of had been abandoned. Since then the fort had never been inhabited until Neemrana Hotels took it under it's wings. With eminent art expert Mr Aman Nath at the helm of Neemrana Hotels, the transformation of this uninhabited fort into an art haven is nothing short of miraculous. Each of the rooms of the Rani Mahal is adorned with beautiful pieces of art by prominent female artists. The Mardana Mahal, similarly has plans on having it's art being done by male artists. We show you a peek into a few of the rooms from the Rani Mahal to marvel your senses.
Sheeba Mahal
Although the fort has a majority of Rajputana architecture, this room is straight out of a Mughal palace. Done in prominent colour shades of green, this room has two beds with a dining table. An octagonal turret has receded seating around a central table with a Taj Mahal.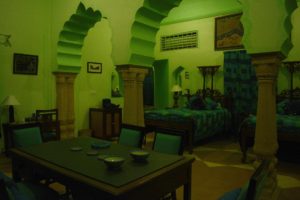 Nayana Mahal
The Nayana Mahal is a long suite with the parts in a continuation. The paintings on the wall depict the different components of family with a single queen bed.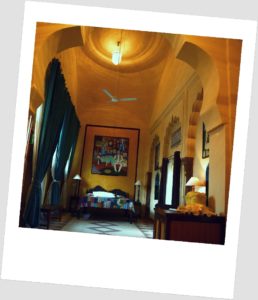 Jayashree Mahal
The room where we stayed is seeped in the beautiful architecture of the fort. With a small room for sitting opening up into the main room with duvans, almirahs and lamps, the room exudes a rustic appeal. The only modern amenities being the refrigerator and the air conditioner. The bedroom houses a Queen sized bed under the octagonal turret. The paintings are Jayashree Chakravarty are essentially modern and molecular.
Anjolie Mahal
One of the most beautiful rooms in the whole property, the Anjolie Mahal is dominated with a full wall fresco by Anjolie Ela Menon. The turret seating place houses another fresco showcasing the Melas, so common of the Rajputana culture.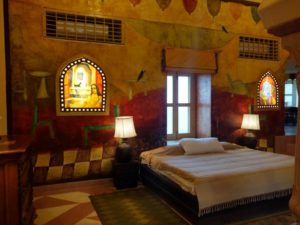 Amrita/ Vivaan Mahal
The majestic Amrita/ Vivaan Mahal is the largest suite of Tijara Fort Palace. Spread across the whole 3rd floor, the Armrita/Vivaan Mahal houses four separate rooms with two bathrooms at the ends. The colour palette is dominated by red with carpets and a small bookcase along with beds to adorn this room. The artwork is dominated by India's Freida Kahlo Amrita Shergill's passionate sense of colour with emphasis on Indian subjects as is shown in the Three Girls. Her nephew Vivaan Sundaram, also another eminent painter also contributes a few artwork to this majestic room.
A visit to the luxurious Tijara Fort is a walk amidst history. Tell us which room catches your attention the most.