The busy corporate lifestyle eats into your head. The tall towers, the honking cars make life a maddening haze. Take a break, come to the lap of nature at Koti Resorts in Shimla. Located at a convenient distance of about 120 kilometres away from Chandigarh and a scenic 7 hours drive from Delhi, Koti Resort give a new strength to all your senses.
Just 30 minutes ahead of Shimla, between the picturesque town of Mashobra and the world famous Naldehra Golf Course. Koti Resort is located on a hill-top, at a height of 6,600 feet above sea-level, offering a spectacular view of the Himalayas. Surrounded by deodar forests and apple orchards, Koti Resort provides a welcome sense of luxury, privacy and serenity, making it the ideal retreat for a family trip, a romantic holiday, or a corporate sojourn.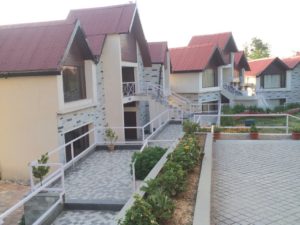 The resort is spread in a semi-circular way around the central public areas, thus giving scenic views to all 54 rooms. Spacious gardens of the resort have rear Himalayan flowerbeds. Waking up to watch the sunrise at the majestic hills through the floor to ceiling windows of our room is a permanent memory we carry. Snow peaked mountains in the rear were visible on a clear day. It's also fascinating to watch morning activities of mountain people at a few homes down the hill. Temperatures dipped drastically in the evening here and we were at about 7-8 degrees at dinner time. Walking into the warmly lit reception we were guided to take a wooden flight of stairs up to the restaurant – On the landing are photo frames depicting the Shimla of yore, each of them holding enough of sway to make you stop and stare a few minutes. A mezzanine floor leads to the fully loaded bar and an outdoor seating area, used primarily in the day time ensures that the gorgeous views are never too far away from sight. The restaurant has an open kitchen where you can actually step up and watch you food being prepared live.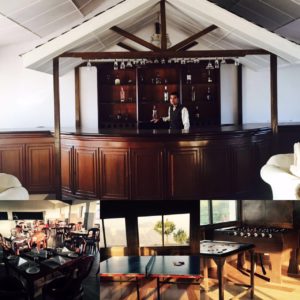 The accommodation this resort offers includes 54 lavishly adorned luxury rooms which provide a great living comfort. There are 6 Premium Rooms, which are designed to offer brilliant and unrivalled vistas of the spectacular Himalayan range. Premium rooms are additionally equipped with LCD televisions, Jacuzzi and separate shower cubicles and a complimentary soft-bar. . Then there are The Suite that offers an elegant double bedroom with a cosy sitting room, set against the backdrop of panoramic views. Suites are equipped with LCD television and Coffee/ Tea maker. Deluxe rooms are charming double bedrooms that include all modern facilities required to make your stay comfortable.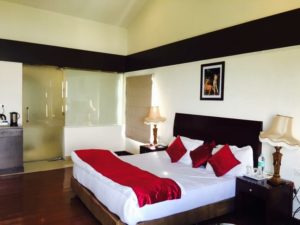 Koti Resorts also offers an expansive 2200 square feet banquet to accommodate up to 150 people. The Resort will facilitate in organizing group activities (jungle-walks, treasure hunt, team-building games) as per your requirements. In the evenings, a DJ or live band can also be arranged for. The banquet is a great venue for weddings, corporate meet ups and events and overlooks the beautifully crafted pool area. Guests can also pamper and refresh themselves in the exotic spa just next to the lawn area against the backdrop of the majestic himalayas around.
Koti Resort is a great combination of Nature, luxury and gastronomy. Whether one wishes to plan an event, a destination wedding or a weekend getaway, this resort fits in all moods. Do visit beautiful property for an experience of a lifetime.