When you're talking about half a dozen things at once. Malay, Chinese, Indian—there are so many culinary traditions colliding in this nation that it's impossible to sum it up neatly. Holy amalgamation of Malaysian flavours are not readily available in India but now that wait is over. Delhi's first all-Malaysian restaurant, JomJom Malay is all dressed to impress. With a peppy coloured rickshaw adorning the entrance. You enter a world that literally transforms into a bamboo shack. One wall is filled with murals, cheerful puppets all with Malay antecedents.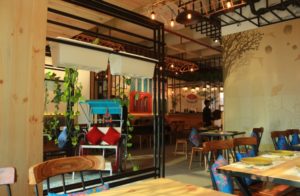 Located at the new-look Ansal Plaza on Khelgaon Marg. The name reflects the fun element that the restaurant hopes to replicate as it literally means, come on let's (try) this Malay or Jom Jom Malay. The restaurant has been created with great attention to detail and the idea was to bring an authentic food experience from the region to the people of Delhi. While several restaurants in the Capital dabble in select dishes from Malaysia, here you get the whole gamut; from laksas and nasis to murtabaks, karis and the roti canai which has echoes of the Indian Malabar paratha.
Food Talks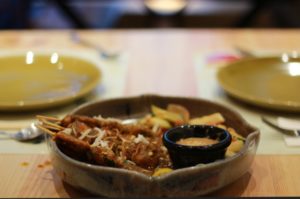 The restaurant's large menu, in contrast, makes it easy to stay away from the usual nasi goreng and satay. Menu has been conceptualised by hospitality consultant and managing partner Aftab Sidhu, who has, in the past helped set up Shalom, Laidbackwaters, Italic, Lap, Orange Chopsticks and Burma Burma in the Delhi-NCR. Anhad Sethi is the key investor and director who began his food journey in Singapore several years ago and has a keen understanding of textures and flavours from the region. A visit to any South East Asian country is incomplete without trying Satay. A satay is a piece of skewered and grilled meat that's served with peanut sauce. Malaysians like their food to be more curried than dry so there's an additional sauce served alongside crackers and a salad. If you like your satay to have a bit of gravy, just pour out a bit of the sauce on it and then dip it into the traditional peanut sauce. There were chicken, lamb, fish and prawn satays on offer. The lamb satay wins hands down. That would be my recommendation. The chicken was flavoursome while the fish was cooked perfectly, the prawns were slightly rubbery.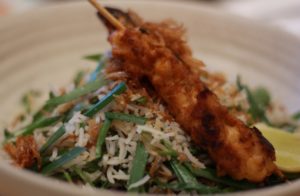 Half a dozen fat pieces of chicken murtabak, meat encased in flaky pastry, make a mild, filling portion. Here, a moment on the soapbox please: why can't more Asian restaurants give up the cane-basket-lined-with-banana-leaf presentation? How we shudder to see the murtabak and the salad lightly brushing the walls of the basket, and long for plates that can just be dunked in hot soapy water and sterilised each time they're used. Our meal couldn't have concluded on a better note without trying out the elegant and delicious slice of coconut cheesecake. The freshly grated coconut over the cake was the perfect cherry on the cake, and inspite of not being a very big fan of coconut, I ended up finishing the dessert, all by myself.