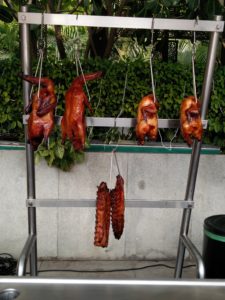 Café Knosh at Leela Ambience Convention hotel presents you with International Barbecue festival. Barbecue is a slow cooking technique adding a smoky flavour to your food. In this chilly winters you can enjoy your feast with an array of barbecue dishes from around the globe. The sitting is in open area on British styled wooden joint tables and chairs along with some melodious retro music.
Serving you with the best oriental, Indian, American and European barbecue only at Rs.999/person for lunch which is only on weekends and Rs.1299/person for dinner. The prices are inclusive of all taxes. Just add Rs.300 to your meal and enjoy unlimited draught beer.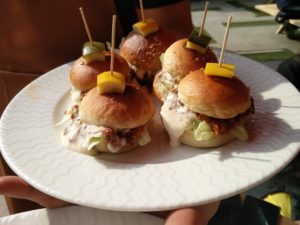 Starting with the American barbecue they have a nice and special food truck setting for it. The menu consists of some yummy hot dogs, mind blowing hamburgers, hash browns, jalapeno burger and all this along with tingling sauces like jack Daniels bourbon sauce, hickory smoked barbecue sauce to add sizzle to the dishes.
The oriental section has dishes like pork belly skewers which is a delight to eat, eggplant skewers which is the best eggplant dish you will ever have, teriyaki lamb chops and all of these are served with fried rice or stir fried mushrooms with sauces like chilli garlic, chilli bean, soya garlic.
European barbecue will lit you up with some wonderful dishes like chicken schnitzel, barbecue chicken which is a must try, halloumi steak a delicious treat all of this served with German potato salad or mashed potato along with sauces like onion gravy and port and pepper sauce. Indian barbecue will serve you with dishes like Asafiya murgh a juicylicious chicken, multani paneer a must try for paneer lovers and many more.
Other than these dishes they have a variety of salads and different kinds of cheese from all over the world. Last but not the least for desserts you have variety of cakes, tarts and a delicious cheesecake which should be on the top of your dessert list. Glorify your day with amazing live grills, scrumptious seafood and some insanely delectable marinades from all over the world which will add a zest to your meal.