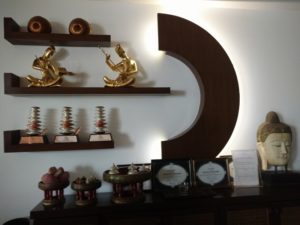 Today's modern city life is stressful. Everyone is running the rat race to nothingness. The corporate culture is slowly but steadily sucking the life blood out of you. In the midst of all this, take some time out for yourself. Sawadhee Traditional Thai Spa offers you a perfect opportunity to sit back and unwind. Our Editor Sudipto De tells you why you should try out the Hot Stone Massage here?
Spread across three floors, this award winning day spa de-stresses you thoroughly, allowing you to jump back into the daily grind. The ground floor houses the foot reflexology area whereas the second floor houses four single therapy rooms while the top floor houses one single rooms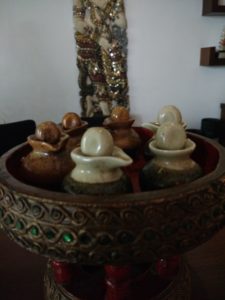 along with two couple therapy rooms. The tranquil surroundings, the slow rustling of the water and the soft music start your rejuvenation process right from the moment you enter. We book ourselves in for the Hot Stone Massage therapy(INR 4838 AI). My therapist Irene guides me to their prime couple therapy suite. The room has two massage beds, a Jacuzzi, a dressing area and a shower cum steam room.
We start off with a traditional foot ritual, an ancient tradition symbolizing a purifying of the soul to open the positive energy channel. The Hot Stone massage starts off with application of a oil that you choose. The range starts from mixtures like Detox, relax and also consists of Indian rose and jasmine. It is followed with application of heated asphalt stones. Let it be at a temperature where it stings, but just lightly. That's just the correct temperature of the stones that you should be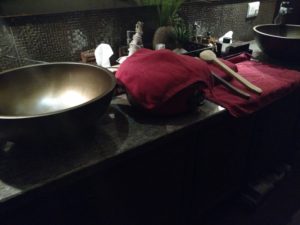 applying. The stones impart a heat that slowly loosens up all those tense knots. Irene also imparts a number of diagonal stretches to free up the muscles even more. A flatter stone is used to roll over the stretched muscles so as smoothen them out. But the most essential part of the massage is the use of pressure by the smooth stones instead of fingers. This is the part which sets this massage apart from the others. You won't really realize where the fingertips end and where the stone starts.
This is one of the most relaxing massages that you'll ever have. Do try it out and let us know your comments about it.