Italian food is very common in Delhi nowadays. But authenticity is the thing which is valued the most. Michelin star Chef Riccardo Sculli along with the team at Sorrento, Shangri-La's Eros Hotel curates an authentic Italian experience. The aura of the place rose to another level when the Chef shared some of his best world class recipes with us. Chef who gained his initial and the most significant learnings while working in the kitchen of the restaurant owned by his family. Now he has his own restaurant in Gamerro Rosso, Italy.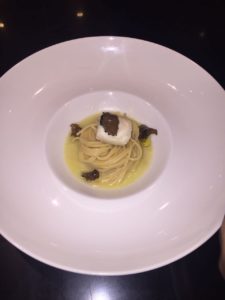 Sorrento is a throwback to the coastal areas of Italy with a stunning yet casual decor. Designed by the Dubai based Stickman Design, the warm yet casual interiors lighten up your hearts with small square tables dominating the space. The restaurant turns into a elegant fine dine in the evening with the manicured lawns outside being a perfect place of alfresco dining. With Executive Chef Neeraj Tyagi and Chef Luigi Ferraro at the helm, this Italian masterpiece will definitely impress the palate of the Dilliwallahs. They have tried to bring out the Neapolitan style of Italian cooking at Sorrento. The food they cook will be dominated by tomatoes and softer Buffalo milk cheeses. To preserve the essence of these areas, most of the ingredients are being exported from the coastal regions of Italy.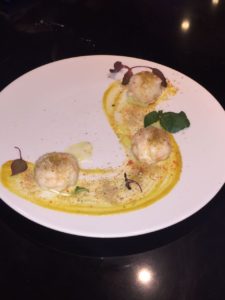 The first recipes shared by Chef Riccardo was Bon Bon shrimp, pumpkin, burrata and anchovy bread. These were ball shaped shrimps filled with burrata mixture. All the ingredients used in the preparation were natural and authentic yet lead to an unbelievable taste. Pumpkin puree, lemon zest along with shrimps exhibited a freshness in the recipe. The second one was Spaghetti with Black cod and Black Truffle. A very simple dish but with an aromatic flavour. Black truffle is a kind of gourmet mushrooms which adds a pungent, intense, earthy fragrance and a uniqueness to this recipe. Being a fish lover it was a show stealer for me. Both the dishes were full of flavours. It was yet another incredible experience at Sorrento. For Italian lovers, search for a high heaven ends here.