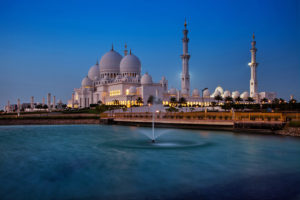 Although I may be a sucker for medieval age forts, there is nothing better than a place of worship to learn about the history and the culture of the country. For Abu Dhabi, what place to start discovering other than the Sheikh Zayed Grand Mosque? This humongous mosque is a testament to the wealth and prosperity of Arabia with colors that will make your eye pop. There mosque also houses the world's largest hand knotted carpet.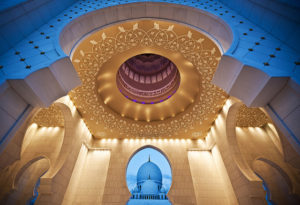 It was built by its namesake, Sheikh Zayed bin Sultan Al Nahyan. The first president of UAE and the ruler of Abu Dhabi, he was instrumental in the unification of the warring tribes of the peninsula. The Al Ain, which is an oases city in the middle of the desert, owes allegiance to this great man.
Explore Abu Dhabi in even more luxury with Abu Dhabi Limo Service
Why I fell in love with this mosque?
Well, for starters the magnanimous presentation. The sparkling white Macedonian marble makes it visible from a very long range. The 82 domes of the mosque are inlaid with beautiful Moroccan artwork painted in colours of gold. The magnificent carpet adorning the floor of the prayer room is the largest in the world. Done in earthy shades, this intricate weaving of wool and cotton took about two years worth of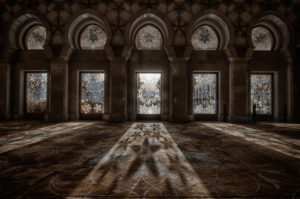 labour. It covers an area of 5700 sq. metres and features a plethora of floral patterns spread over five medallions. The floral patterns are characteristic of Islamic and Iranian cultures.
Although the interiors of the mosque make it world class, it looks even more beautiful in the nights. The lunar lights are a spectacle to observe. The white marble façade shines bright under the effects of the light. The lighting cycle represents the light of the moon. It is usually subdued at the starting when the moon is just a crescent. It becomes more prominent as the moon increases in size.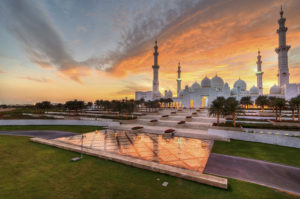 Our guide took us through the mosque and showed us the magnificent beauty of this place. This mosque of grand possibilities is something that should definitely be on your bucket list while visiting Abu Dhabi.
Picture Credits: Visit Abu Dhabi & Sheikh Zayed Grand Mosque Centre
Pin