Well, who doesn't love to eat in a luxurious setting. Although many hotels and restaurants offer a truly resplendent ambiance, nothing matches the luxury at the Emirates Palace, Abu Dhabi. Located on a kilometre private beach, this hotel is owned by the royal family and government of Abu Dhabi. What it offers is a view into unbridled luxury. The Arab world has been fascinated with gold as a mark of their wealth since the time of the oil boom. Although the glaring display of gold on the gulf shores is something that does dazzle us, but nothing matches upto the innovation of the Gold Coffee and Gold Burger.
The first thing that struck me was the amount of opulence on display. The Emirates Palace goes beyond the 5 Stars accorded to them. It's central dome in the lobby is inlaid with gold and silver motifs in the traditional Arabic style. The hotel has six restaurants which serve out a plethora of cuisines and showcase the best of Arabian food. This ginormous 394 roomed hotel made me marvel at the limit of human imagination. But it's their fascination with gold that makes me truly astounded. From the domed ceilings to the lights, from the desserts to the coffee, Gold occupies a central theme in the hotel. Apparently they spend about 5 kgs of edible gold in a year.
Check out another place for opulence: The Abu Dhabi Suite at St. Regis, Abu Dhabi
The Gold Burger and Gold Coffee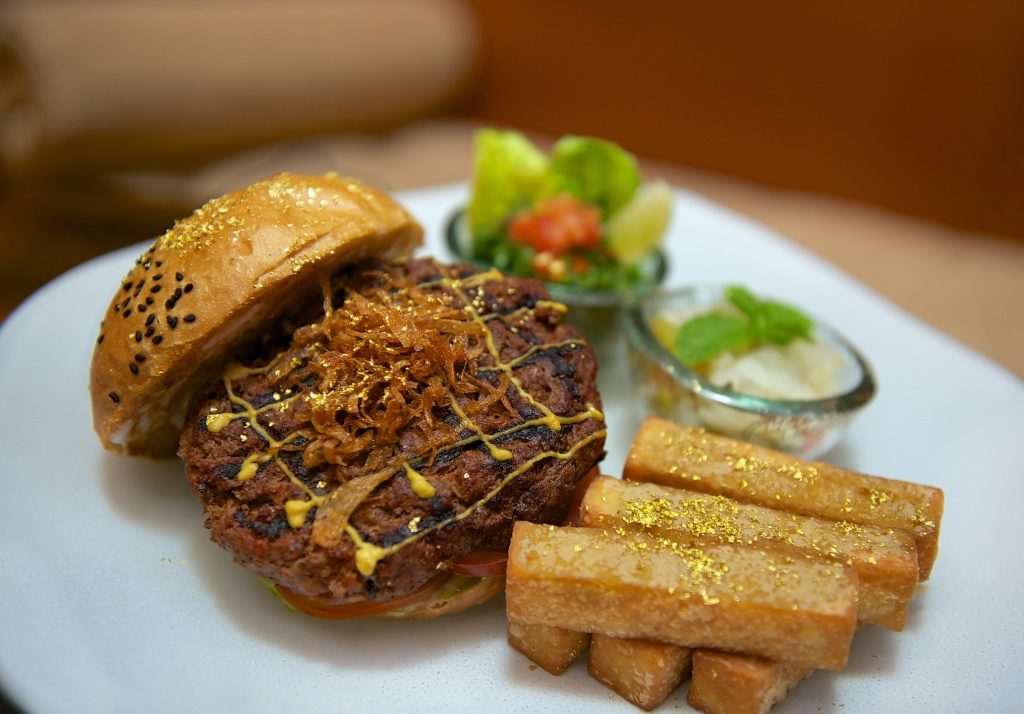 The Palace Cappucino is one of the most expensive coffee that you'll ever try out. This aromatic blend is topped off with 24k gold dust. The coffee is served in an exquisite silver platter along with a special date and dark chocolate. The Gold Café is available at the Caviar Bar and Le Café. The Gold Camel Burger is another delicacy that you definitely need to try out. Camel meat has quite an unique flavour and a mince meat patty is laid on with a truffle mayonnaise dressing. The bun is sprinkled with 24k gold dust while some homemade Arabic pickles, taboule salad, fried onions and mozzarella cheese combines to create some heavenly taste patterns on our palate. The burger is served with some gold dusted chickpea fritters on the side to present authentic Arabian flavours in an innovative way.
The Gold Burger is priced at AED 110 (INR 2000) while the coffee is priced at AED 60 (INR 1100). You should definitely try it out on your trip to Abu Dhabi.
Image Credits: Visit Abu Dhabi