As our country, the land of cultural diversities and festivals, just celebrated the festival of Durga Puja, which is known affectionately as 'pujo' or 'Durgotsav' to Bengalis, is celebrated with dance, food, music, grandeur and community gatherings. Now, we all know Bengal is home for some of the finest delectable delicacies. For our next food quest we decided to explore the tastes of Bengal, and what better option was there to explore in Delhi than the Bengali Hub, CR Park. My companion for this food quest was LeEco Le 2. It is the successor to Le 1 and comes with a similar design, but improved specs.
The phone boosts 8MP shooter front camera and 16MP primary camera with dual flash. The Camera Interface is Pretty Loaded in the Le 2. It has a big shutter button, above the shutter button it has the options for video recording, slow-mo recording and panorama mode. Then it has different modes to choose from like HDR, Night, Square and Beauty mode. It has a flashlight On/Off Button at the top center and a settings button on the top left. The device also features a lot of color effects to edit your photographs. Some of the color options are Mono, Nature, Tonal, Warm, Normal, Chrome, Lomo etc.
To test the camera quality of the phone we took it to various Durga Puja Pandals in C.R Park and famous Bengali eateries for this special festive story. We also bring to you a list of five Bengali dishes that you must try during this festive season. All pictures in the post are clicked by my LeEco Le 2.
1. Ghughnee
The markets in Chittaranjan Park offers exactly everything that a Bengali from Kolkata would need. On one such journey to discover the popular bengali snacks we encountered "Ghughnee". An extremely popular snack in Bengal and in parts of Bihar and Orissa, ghughnee is a curry made of chickpeas that are soaked in water overnight. There's a veg version as well as one with minced mutton.
Location- A roadside vendor at Market No.1 CR Park near Canara Bank ATM
2. Mughlai Parantha
Mughlai Paratha or also popularly known as Mughlai Porota in Kolkata. Is a famous CR Park and Durga Puja Delicacy. This place (Kolkata Kathi Roll) deserves some special kind of food award for rolling out the world's yummiest Mughlai parathas, stuffed with shreds of chicken and layered with maida and egg, the dish spells out indulgence
Location- Kolkata Kathi Roll, CR Park Market no.1
3. Sandesh
Prepared with milk, sugar and paneer, and decorated with pistachios, almonds and saffron strands, this Bengali sweet dish will melt in your mouth. The nuts give the soft mithai a crunchiness and saffron strands give it a unique flavour. If you haven't had sandesh yet, you should definitely try it out this festive season.
Location- Rasoraj Sweets, D-767, CR Park, opposite market no.2 , Bipin Chandrapal Marg.
4. Kolkata Biryani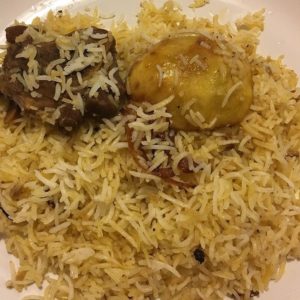 If you haven't eaten biryani for lunch or dinner at least a couple of times, you're really not feeling it. A good Mutton Biryani (Kolkata-style mind you) complete with a chunky potato is a must. And if you don't eat mutton, even a Chicken Biryani is acceptable. The grains have to be long and separate, and have that yellow tinge without fail. Where in Delhi do you get this biryani? At the puja pandals of course or else you can head to Kolkata Biryani House.
Location- Kolkata Biryani House, Shop no 49, Market no.1 CR Park
5. Churmur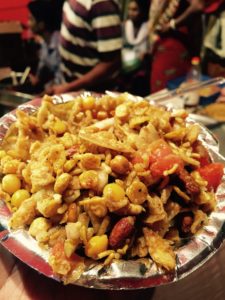 Churmur is the broken down version of phuchka, or rather its a transition between alu kabli and phuchka. It is a crunchy, crispy, tangy, sweet & savory snack/appetizer that is one of the most popular roadside street food in Kolkata.
Location- K block pandal, C.R Park
This is the list of dishes that we suggest you to try during this festive season. A special mention to LeEco Le 2 which was my partner in this food trail. The phone which turned out to be the star of our trip is a a slim 7.5mm and weighs 153 grams pocketable device. The curved edges of the phone further helps in this regard and makes it comfortable to hold in the hand and it simply slips into any pocket.
The phone is powered by a 1.8Ghz Snapdragon 652 processor which offers an excellent balance between performance and frugality. LeEco phones are equipped with fast charging technology and it has been one of our favourite features. As promised, the Le 2 also charges up pretty quickly. For its price, LeEco Le 2 is a total worth and can surely turn heads.