Fabulous Food in Las Vegas 
These days, when people take a trip to Las Vegas they've got a lot more to look forward to than just playing at the incredible casinos. The bright lights and potential big wins are still a huge draw card, but there are plenty of other attractions that add to the experience.
You can take in a show with some of the top performers, including musicians, comedians and incredible dancers, and dine in some of the finest restaurants eating meals prepared by some of the most renowned chefs on earth. The food in Las Vegas has earned itself legendary status in recent years, and whether it's a champagne and sushi buffet, dishes prepared by some of the worlds most famous chefs, or a real American-style hotdog or hamburger that you're after, there's something to sate every appetite.
A Plethora of Pleasures
One of the first things you'll notice about the food options in Las Vegas is just how many there are. The famous Las Vegas buffets are a quintessential part of any trip for many visitors, and most hotels offer their own take on this established tradition.
Classic features of the Vegas buffet include hundreds of crab legs on beds of ice, enormous piles of shrimp, carving stations for ribs and plenty of other mouth-watering and extravagant dishes. You'll also find signature dishes that make the best buffets stand out from each other too. If you don't want to leave the thrill of the casino behind while sampling the fare from the buffet, you can always enjoy playing slots or table games on your mobile until you've had your fill and can make it back to the gaming floor.
You'll find every type of buffet available in Vegas, and many of them operate 24/7, so you can dine at your leisure.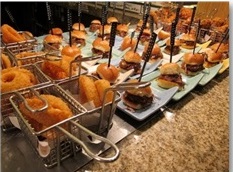 Tastes That Take you Round the World
Make sure that you indulge in the glorious abundance of a Las Vegas dining options while you're in town. There are superb seafood, bistro dining and fine dining establishments all over the city, often connected to a world-famous chef or even run by an award-winning culinary master.
Vegas also caters to absolutely every taste, and there are an abundance of restaurants that serve up dishes from across the globe. Let yourself be transported to Mexico, China, Italy or even Bangladesh, and enjoy authentic fare from countries all over the world.
Since you'll be in the United States you can also sample a good old slice of Americana with some classic-style American cooking.
Decadent Desserts
Las Vegas is a city that's known for it excess and opulence, and when it comes to sweet treats this is even more evident. Anyone with a sweet tooth will be in heaven as the array of options available is astounding. From traditional American ice cream sandwiches, to waffles, milkshakes, sundaes and banana splits, there's something delicious at every turn.
If you fancy a cupcake you can also visit a cupcake ATM that dispenses confectionary on demand, or if you've had a good day at the tables you can order the decadent Golden Opulence Sundae that comes complete with gold flakes, a crystal glass and a gold spoon, and sets you back a whopping $1000!
If you're thinking about food in Las Vegas and planning a visit, we're officially jealous! Enjoy making the most of the bright lights and big wins at the casinos, taking in the shows and sampling some truly world-class cuisine!