ITC Food's signature handmade chocolates, Fabelle comes to town and it's going to be a rage this Diwali season. With a selection of flavours ranging from milk and dark chocolate, Fabelle dances and swirls upon your palate to create a magical explosion of flavours. Fabelle launches as a luxury chocolate boutique on the ground floor of ITC Maurya. You can decide upon your favourite flavour along with have some conversations with a chocolatier as they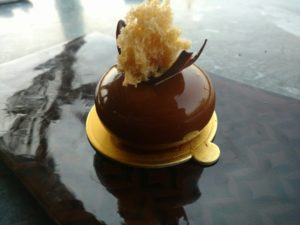 prepare some delectable treats for you. ITC is sourcing it's chocolate across 7 nations from South America and Africa. The chocolate has been tempered perfectly so that Type V crystals are created which melt at 37 degree Celsius. This actually translates to the chocolate melting the moment it comes in contact with your tongue.
The exquisite range of chocolates extends from Ganaches to desserts. The must tries include a Ghana Milk Chocolate Mousse with Banana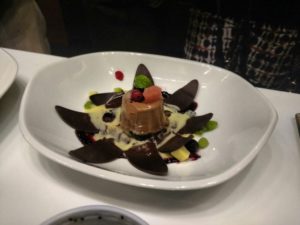 and Caramel Crème (INR 450) and the Éclair Venezuela (INR 375) which incorporates 72% Venezuelan chocolate. There are also some visually enchanting dishes which are prepared at the live counter. The Chocolate Flower (INR 525) has a mousse of Single Origin Saint Dominigue 70% Dark Chocolate along with Turkish pistachio cream and a Raspberry confit. The variety of sweet, bitter and tangy flavours is something that you should really look forward to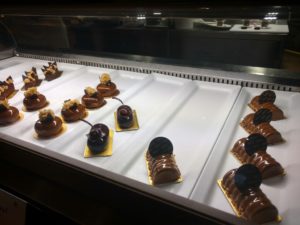 We bring back the Ghana Dark Chocolate Ganache (INR 675) and a box of homemade pralines, Elements (INR 400) back home. The Ganache combines the bitter 64% dark chocolate with cream and butter. The pure unadulterated flavours of dark chocolate explode on your palate as there is a range of creamy, smooth textures to experience. The set of 5 pralines is something that might soon become a new gifting option. One of my favourite flavours is Fire. Dark chocolate trapping candied mango and chili inside it. As the chocolate melts in your mouth, the sweetness and the heat envelope your palate. Water incorporates a tender acacia nectar with some sea salt to incorporate a beautiful salty flavour to the praline.
So this season, check out the plethora of flavours and extinguish all your chocolate cravings at Fabelle at ITC Maurya.