Most sauces have more than one function in a dish. A sauce that adds a counterpoint flavor, for example, may also introduce textural and visual appeal. Sauces generally serve one or more of the following purposes. sauce can add moisture to naturally lean foods (e.g., poultry or fish) or when using cooking techniques that tend to have a drying effect, such as grilling or sautéing. Grilled foods are frequently served with a warm butter emulsion sauce like béarnaise, with compound butter, or with salsa or chutney. Beurre blanc is often served with shallow-poached lean white fish to add a bit of succulence to the dish. Add visual interest
A sauce can enhance a dish's appearance by adding luster and sheen. Many sauces include a garnish that adds texture to the finished dish. A sauce finished with tomatoes enhances Chicken Chasseur, while a smooth sauce adds a textural contrast to pan-fried dish.
Whether it's your favorite pizzas or sandwiches, condiments make them a whole lot tastier. Cremica Foods has recently launched 5 brand new flavours of Speciality sauces to spice up all your most loved snacks. The range includes Honey mustard sauce, Barbecue sauce, Thai Chilli sauce, Tomato ketchup and Sweet Onion sauce. Covering all flavour profiles, these options are curated to please all palates and fulfill cravings for every mood.
Food Talks with Cremica
1. Honey Mustard Sauce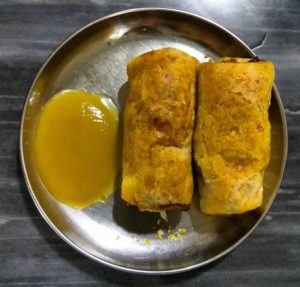 Mustard is one of those condiments that just seems to improve everything it touches. With a magical combination of acid, salt, and spice all in one cheery yellow spoonful, it's my go-to for brightening and perking up the flavors in so many savory dishes. This sauce is an awesome blend of the sharp zip of mustard and sweetness of honey combined beautifully to spice up all your dull dishes.
Food Items recommended with it : Fried Calamari, Chicken nuggets and Carrot & beetroot salad with honey mustard sauce
2. Barbecue Sauce
Having a perfect blend of Brown sugar, vinegar, Worcestershire sauce and tomato ketchup. It works great on everything from ribs to chicken to beans, or it can be a dip or a baste. Because of its thickness, the sauce doesn't bake in much, rather it sits atop the meat, and its high sugar content means it can burn quickly over hot coals. It's best to use the sauce lightly with a little extra vigilance while grill-side.
Food item recommended : Chickpeas flour omelette with barbecue sauce
3. Sweet Onion Sauce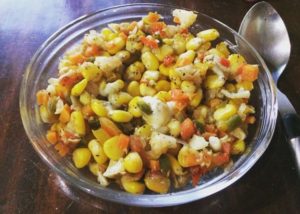 My first encounter with this sauce was at Subway and since then i've been a fan of this sauce. This version of sweet onion sauce by Cremica is loaded with onions, herbs and sweetness. Corn Salad with tomatoes, onions & bell pepper with dash of sweet onion sauce from Cremica is going to be the best ever tasted salad right at home.
Food item recommended: Corn Salad
4. Thai Chilli Sauce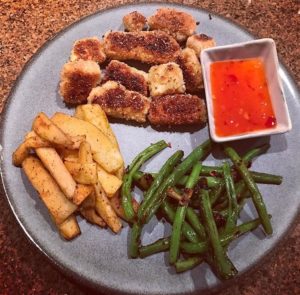 Known as Nam Chim Kai in Thailand. This savory sauce can be used as a dip with shrimp or spring rolls, in stir-fries and noodle dishes, even on whole wheat pizza crust instead of typical pizza sauce with feta, sun-dried tomatoes, chicken, and vegetables
Food items recommended with it includes fried tofu with potato wedges as shown in the picture above.
5. Tomato Ketchup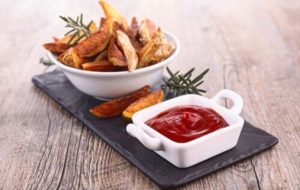 This one definitely deserves a space at the side of your plate. It was tangy with a sweet undertone and a subtle acidic kick that made it perfect. We just couldn't get enough of it. The brightness was balanced by the robust body that held up to the fries that it was paired with.
Food items recommended: It goes well with a variety of chips, fries, noodles and burgers
For more information on the products you can check out their website