There are some hotel brands that you'll always love coming back to. The FRHI group recently taken up by the Accor Hotels is one of them. Their flagship Fairmont at Jaipur is where I started my journey. After almost two years, it was almost an homecoming of sorts for me. It was really invigorating meeting some of the older staff. What was even more endearing was that they remembered my preferences, especially my love for Eggs Benedict at breakfast. Now, the Fairmont Jaipur has quite an interesting restaurant Zarin which serves an unusual cuisine, Persian. Unlike the heavy masalas and fat of the Mughal cuisine, the subtler Persian food is a delight to the senses. We celebrated Nowruz at Zarin and tried out the intricacies of Persian food.
Persian food
Although the staple of Persians used to consist of meat, the new menu takes a focused look at the vegetarian options. The need arises from predominant vegetarian Marwari community of Jaipur. Just as Executive Chef Manpreet Singh disappears off to assemble our dinner, we start munching on some Persian breads along with a earthy hummus and more tangy than spicy Anika. The first course is a soup from the mountains of Uzbekistan. With lamb and pulses combining to create a burst of proteins, this hearty soup will instantly energize you.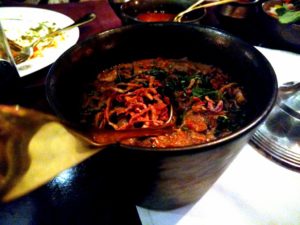 Although kebabs have been something that you may have tried innumerable times, but the Jujeh Kebab is something that you should definitely try out. The meat is marinated with saffron and tomatoes to give it a beautiful yet subtle taste. Now, I am a big fan of the vegetarian cutlet which is quite common in the Bengali household. The Parsi Vegetarian cutlet is crispy and hits you with a burst of flavours.
Nowruz specialities
Mutton Dhansak is one Parsi dish that I have tried quite rarely. Although I do get to try it out, I quite fall in love with the Tabriz Kofte. Originating out of a small town in Iran, Tabriz, the kofta presents chicken in quite an interesting version. It is stuffed with nuts and cooked in an onion gravy. The Vegetarian options for the menu include a vegetarian Dhansak and Kasare Pukhtan. There is also a tasty Haleem and Iranian Biryani on offer. We polish all of it of with some Babari Naan and Sheermal. The Babari Naan is a tongue shaped flat bread with sesame seeds on top​ of it.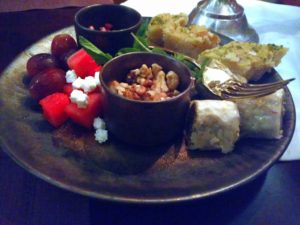 Desserts are a huge Shabeh Yelda platter which pokes through every region of my palate. There is some sweet Iranian Baklava, tangy feta cheese along with the combined burst of freshness from cilantro and basil leaves. There are also some fruits to neutralize the extreme sweetness of Baklava. The Persian food festival will run at Zarin till 1st April 2017. Do tell us about your experience of Persian food?