Lebanese food is the newest cuisine to accost the Indian shores. After the severe bastardization of Chinese and Italian, Lebanese is the newest cuisine to be available on the streets of India. One of their prides, the Shwarma has been stripped down to it's basics, slathered on with a yoghurt based sauce and some pickles. Our earliest initiations to Lebanese have been to this food until Zizo opened in Connaught Place. A place for authentic Lebanese food with even the Chefs originating from there, Zizo captured the imagination of Delhi with it's subtle yet varied flavours. The trademark of the brand has always been the usage of organic products imported from Lebanon which imparts the highest level of taste. With Zizo spreading it's wings to Noida and Gurgaon, the flavours still remain paramount in this two year old chain.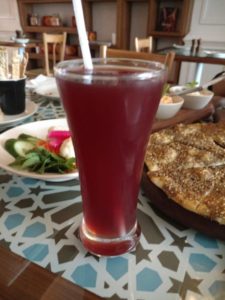 The Mulberry Juice has been our favourite since the store opened with it's inherent sweet taste leaving a marked impression on our palate. So much so, even the first of my dates have taken over glasses of theis delightful concoction. A new addition, the Mulberry Lemonade adds a bit of fizz for those who can't handle the sweetness of the mulberries. Executive Chef Danny Elsoury starts us off with a Zatar Manoushe and a Mezze Platter. The Mezze Platter combines some of Lebanon's famous dishes in one area. The crispy falafel with the three flavours of hummus (Classic, Spicy and Basil) along with the gorgeous looking pickled vegetables and a continuous supply of pita bread.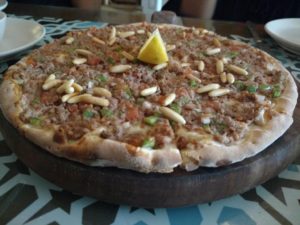 But a few flavours that really stood out for us is firstly the Provencale Chicken Lollipops. A scrunching hit of citrus hits us with a distinct flavours of coriander on the crispy chicken lollipops. A totally new rendition of the chicken lollipops that you might want to try. The next in line are the Lamb Pies. Pieces of lamb mince along with peppers on a thin crust base with some pine nuts. Squeeze some lime over it along with some spicy yoghurt for a plethora of sour and hot flavours to hit your palate. The Shwarma is up next in all it's glory. Chicken rolled in bread along with a garlic dip and pickled vegetables. This Shwarma will give you the taste of authenticity.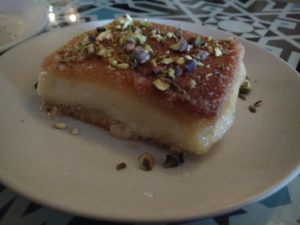 A sweet ending follows as a Cheese Khunafa and Lady's Arm roll by. Both exude the typical high sweetness of Lebanese food with the Khunafa being sloshed by an orange blossom syrup while the Ladie's Arm(Znoud El Sett) is a crispy pastry covered with Lebanese custard and drenched in sugar syrup. So, next time you are in the mood to experiment with food, do try out the dishes at Zizo. Do try and order something that you haven't eaten before. With three more outlets opening in Gurgaon and Noida, Zizo is going to secure one of the top spots in the Delhi food scene.