Audi, the German car manufacturer, launched the all-new 2016 Audi A4 at company's Gurgaon dealership. 95 kilograms more lighter than it's predecessor the car has a brilliant performance and redefines efficiency, comfort and technical finesse. Audi A4 was the cheapest Audi earlier but now with A3 being the cheapest, A4 is the next cheapest Audi you can buy. The new Audi A4 is slightly bigger in dimension than its predecessor. It is 2.5cm longer on top of a 12cm longer wheelbase, 1.6 cm wider on a new platform that is said to be 120 kg lighter. The new Audi A4 is currently available in petrol only, with its 1.4 liter TFSI Engine pumping out close to 150 bhp of power.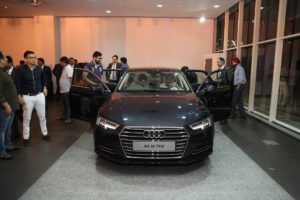 The all-new Audi A4 now comes with a new 7 Speed S tronic transmission. The transmission now offers a fuel-saving freewheeling function called "Coasting Mode". Wheel-selective torque control supplements the drive train.
First fully digital dashboard, the Audi Virtual Cockpit is completely driver focused, every information is directly in front of the driver- from navigation arrows to dynamic animations and infotainment features. The 31.24 centimeter LCD displays the most important information in brilliant high-resolution graphics, with great detail and sophisticated effects. The Audi Virtual Cockpit offers display in two views: Classic and Progressive.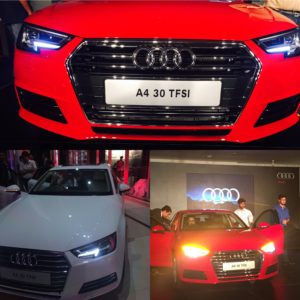 The Launch event commenced at 7 pm with a host of attendees including journalists, marketers, bloggers, photographers and automobile influencers. The Audi Gurgaon showroom, under Zenica Group, is the first and one of the largest Audi showrooms in the country. Zenica group also boasts of two other iconic showrooms in Delhi/NCR – the Audi Delhi Central and Audi Approved Plus, the latter being the largest pre-owned luxury car dealership housing up to 33 cars under one roof at any given point of time. Over the years, all 3 dealerships have been awarded as Audi's 'Partner of the Year' several times, with Audi Gurgaon winning it in a row since 2012.
The event organised by Audi Gurgaon was graced by Magician and illuminist Karan Singh Magic, who enthralled the crowd with his tricks. The new A4 has been launched at a really competitive starting price of Rs. 38.10 Lakhs (ex-showroom). The new car is now available for test drive at the authorized Audi dealerships in NCR. One can also check out the tweets on the new A4's launch at the Audi Gurgaon dealership by following #NewA4atAudiGurgaon. The new A4 is sure to bring a revolution in the premium executive sedan segment.
Test Drive Link- http://bit.ly/AudiDelhiCentral