The creators of The Hungry Monkey and TabulaBeach Cafe 2.0 have come together with their latest brainchild- ARRIBA- a Mexican Grill & Tequileria! The space evokes a colourful yet laid back spirit of Mexico, giving the perfect vibe for a delectable meal at a cool restaurant. The interiors boast of dramatic architectural details, symbolic of Aztec/ Mayan characteristics against a vibrant palette of coral, aqua, cobalt, burgundy and gold. The decor reflects drama with elegance and everything that one would love while dining in with a relaxed vibe and set up.
The Main USP of the place is the "Tequileria" which is an avant-garde establishment where Tequila is not only served at the tequila bar but is also innovatively used in cooking. Arriba is a celebration of all things Tequila. The place houses a spectacular collection of Blanco, Reposado and Añejo Tequila to choose from and boasts one of the largest collections of Margaritas on its bar menu. The restaurant boasts the largest selection of margarita cocktails in the city.
Food Talks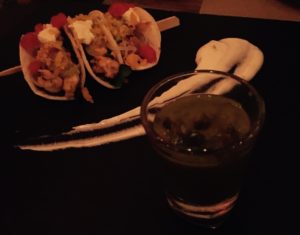 The menu is really smartly designed and consists of a fabulous selection of small plates, soul satisfying main courses and refreshingly different cocktails. We started with Salsa Carnivale (INR 425) has five types of salsa including mango coriander, habanero watermelon, feta and jalapeño, charred tomato and spiced green tomato which is served with homemade tortilla chips. Following it was Camaraones Diablos(INR 675) juicy shrimp is served with chipotle chilli sauce, orange juice and lime. The dish has a perfect balance of flavour and is a delight to your tastebuds. Panhchos(INR 575) is a dish made of refried tortilla which is stuffed with pulled pork, sweet chilli tequila sauce which is the backbone of this dish and pickled jalapeños.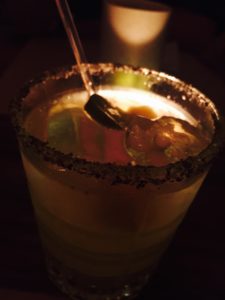 Before the mains, we opted for some of their signature cocktails and to start with the Coconut Margarita(INR 525) snow white in colour this drink is a combination of tequila, triple sec and fresh coconut cream with a hint of lime that provides a tangy aftertaste. The Pineapple Ginger Margarita (INR 525) is a combination of pineapple, ginger and jalapeño. It is amazing to see these three ingredients with such distinct characteristics combine and create a masterpiece. The main highlight for us was the Cinnamon Tamarind Margarita (INR 525) tamarind infused in tequila with cinnamon, peach, lime and sparkling wine adding to the character of this drink. It is indeed refreshing and goes well with the Salsa Carnivale. We ended the journey on a sweet note with Churros Chocolate Duo (INR 475) crunchy churros were indeed a sinful delight with dark chocolate and chilli chocolate dip. The Tres Leshes Cup Cakes are spongy Mexican cupcakes that is made in house with an expert touch of Chef Noah Barnes.
In a nutshell, From a fabulous selection of small plates, soul satisfying desserts and refreshingly different cocktails, Arriba is an ideal spot for your next encounter with authentic Mexican meal. Chef Noah Barnes and Team have created a bouquet of unusual and unique offerings that will tantalise your taste buds for sure.