On December 3rd 2016, Delhi's first mall, reopened in grand style as the city's ultimate F&B and sports destination. Two of the anchor brands amongst many, Decathlon, a global sports retail giant and The Arena, an ultra luxury lounge threw their doors open for public. A daylong celebration was hosted by Ansal Plaza, to launch Decathlon store followed by a gala evening party to launch The Arena.
The Decathlon store at the Ansal Plaza promises to be an exciting affair for the sports enthusiasts of Delhi as it will be a one stop shop for a range of qualitative fitness and sports goods at a very reasonable price. A unique costume run for kids and a 5 to 10 km run for adults was also organized as a part of the store's opening run on Sunday December 4th 2016. Ms Caroline Muilliez of Decathlon expressed her happiness to be associated with Ansal Plaza as the strategic location offers the best catchment of fitness and sport lovers.
The Arena too is also a wonderful reason to visit Ansal Plaza. Spread across two levels with a massive 13000 square feet area, with exquisitely designed indoor and outdoor spaces it will certainly attract the party lovers of the city. Mr. Mukul Bajaj, the co founder of The Arena says" We are excited about the launch and are pretty confident about the success of the eatery as it is located in the heart of the city with ample parking space so as to draw the patronage we are looking for"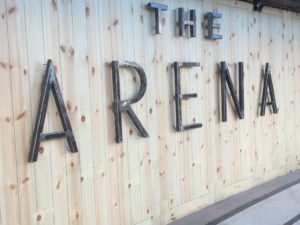 Also present at the launch was Mr. Amit Phull; head retail Ansal API, whose new strategy will take the mall to greater heights. Ansal Plaza has been the hub of entertainment in Delhi since 1999 as the city's first mall. With its prime location, excellent parking and vast open and green space, it promises to continue the tradition of excitement and celebration in its new avatar. Do visit Ansal Plaza not only for an exciting new shopping experience but also to savor some delectable world cuisine with various upscale restaurants which will make this mall a must visit destination.